September 04, 2016 — BarryK
The saga continues. I have a collection of bluetooth keyboards and mice.
I have an interest in using them with my phone, see this post in May 2015:
http://bkhome.org/news/201505/computing-on-the-go-the-complete-kit.html
Now for the 2016 attempt! The Logitech T630 touch mouse is OK, but there is no operating system, apart from Windows, that can use its special touch features, such as pinching.
What I really want is a "normal" mouse, with roll-wheel, USB-rechargeable Bluetooth. This is what I have just bought:
https://www.amazon.com/Rechargeable-Bluetooth-Wireless-Noiseless-Computer/dp/B019MR4Y3U
One of my cheap Bluetooth keyboards just died, without hardly any use. The one I like best, and still working, is the HB-2000, see link at top, however, construction is sub-professional.
So, having another go. I have just bought this, USB-rechargeable folding keyboard, made by Audiosonic:
http://www.kmart.com.au/product/bluetooth-keyboard/858809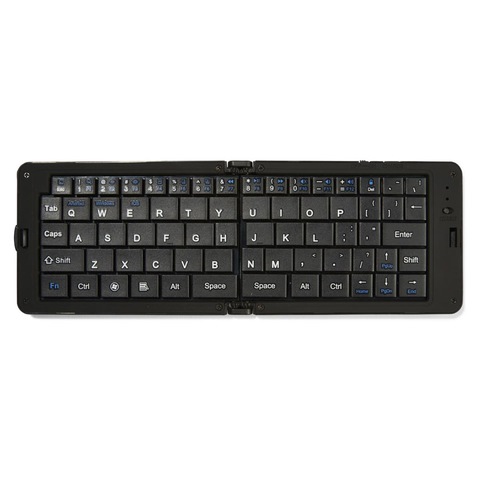 It looks really well made, and comes with a neat little stand to hold your phone at an angle -- too small for tablets probably.
I haven't actually used these yet. This is the latest to be tested in my on-going "traveling light" series.
Tags: light
August 04, 2016 — BarryK
I am a sucker for an innovative new project!
I have pledged US$99 (actually US$134 including postage to Australia) for the Andromium Superbook. Kickstarter project here:
https://www.kickstarter.com/projects/andromium/the-superbook-turn-your-smartphone-into-a-laptop-f/description
I reported on Andromium back in May 2015:
http://bkhome.org/news/201505/andromium-os-on-android.html
Very interesting, perhaps the Superbook can be used for other projects, such as Maruos and Ubuntu Touch. Well, quite likely it can.
Of course one does have to contrast this with the cost of a basic laptop, that I can buy locally for AU$250 - AU$300, onto which I could install Linux.
July 31, 2016 — BarryK
Every now and again, I go on a hike, because I enjoy it, also to test my gear.
I recently acquired ultra-light tent and backpack, and I have been itching to test them in the field. So, Friday 22nd July, I set off for an overnighter on the Bibbulmun Track.
I introduced my tent, a Nemo Hornet 2P here:
http://bkhome.org/news/201607/nemo-hornet-2p-tent.html
And my Zpacks Arc Blast backpack here:
http://bkhome.org/news/201607/carry-on-backpack.html
I made some notes on packing of my backpack here:
http://bkhome.org/news/201607/kitchen-on-the-go.html
http://bkhome.org/news/201607/electric-kit-on-the-go.html
On this occasion, I neglected to weigh the backpack when packed, but I guess it would have been about 6 - 6.5kg.
This is a great backpack, all the weight got carried comfortably on my hips, and jumping ahead, I have to report that it stayed in-place on my hips, not once did I have to pull it up -- in contrast to my field test of my GG Pilgrim backpack:
http://barryk.org/light/field-tests/ft2-backpack.htm
My walk this time was a loop. I caught a bus to the town centre of Mundaring, then walked south along the Munda Biddi trail to Mundaring Weir. Once again, had lunch at the hotel.
This time, instead of walking east along the Bibbulmun Track, I walked west, heading toward the norther terminus of the track at Kalamunda.
This took me on the west side of the weir. Here I am approaching the weir:
This is down-stream of the weir, and I had to walk right down, then up the other side. At the bottom is the original pumping station, for pumping water by pipeline to Kalgoorlie. This was steam-powered and is now a museum:
looking at the weir, you might be able to see two young fools walking across the face of it. There are small horizontal grooves in the wall, just wide enough for a foot:
Here is part of the above photo:
On the other side of the weir, I walked westward, and came to a lookout:
Delightful scenery, and a lovely sunny but cool day. The lookout provides beautiful views of the weir and below.
It was just past here that I misplaced the track. No more wauguls, so I knew that I had missed a turn. Just then, a ranger drove up, and showed where I had gone wrong.
Late afternoon, I arrived at Hewitt's Hill shelter:
Mighty pleased with my backpack so far, now my tent got its turn to be evaluated:
I really don't have much to say about the tent, as it "just worked". Like the backpack. Both are so light, contributed to a very comfortable trek -- the next day, I had hard yakka down and up many valleys, clambering over rocks, and my feet felt fine -- very good sign, the feet not complaining too much.
The Hornet 2P erects very fast, and I put all of my gear inside, including my backpack. Shoes stayed in the vestibule.
I used four stakes, the minimum, OK in non-windy conditions.
There was plenty of room for one person. I would not recommend for two, unless you are on your honeymoon.
I did find myself thinking that this tent would be nicer if it was a proper two-pole crossover dome tent, rather than the 3-segment design. This design is to save weight, but does result in the sides caving in.
A traditional full two-pole-crosser design, as in my Big Sky Soul tent, would not increase the weight by much. But then, the Hornet 2P is an exercise in achieving lowest possible weight -- even so, I would prefer the full-poles configuration, just to keep those side out a bit more, and also it would be truly free-standing as is the Soul.
Regarding the Soul 1P, there were other things about it that I did not like, such as the narrow-end barely-existing vestibule, and the fact that it is 1P. I wrote about it here:
http://barryk.org/light/field-tests/ft2-backpack.htm
I had a pleasant overnight, then next day walked to Kalamunda, then bus to home, via Perth city. That walk was only about 10km, however, it was up and down, and in places very rough and rocky.
It took me almost 4 hours. Closer I got to Kalamunda, more people walking the Track, day-trippers.
Conclusions
Great backpack, great tent. Though note my musings on the tent, I still don't think it is the "perfect" hiking tent. But, I have spent enough money for awhile, like for the next year.
July 21, 2016 — BarryK
I have rationalized my electrical and electronic kit down to a very small number of items, and very light.
I have need of telephone, Internet access, GPS, read ebooks, and take photos, all provided by my mobile phone. I also wish to listen to music and news, either streamed from the Internet or by FM radio, and my mobile phone does both -- the latter requires ear pieces as the cable acts as the FM antenna.
I have need of light, for which I have two options, either my mobile phone, or a tiny rechargeable torch that I bought from dx.com.
Note, I sewed a ribbon onto the torch, so it becomes an extremely light-weight head-lamp.
Optionally, depending on where I go, or in an emergency, I need some means of sterilizing water. I could boil it, but currently I am trying a Steripen, the Freedom model, with rechargeable battery.
So, phone, torch and Steripen, each with rechargeable battery, via micro-USB socket.
If I have mains access, I have a small power-adaptor. If not, I have a solar panel. Also, a short USB cable.
Here it all is:
This configuration is so flexible, and so light. Actually, the phone in the picture is not the one I normally use, as I took the photo with that. My everyday phone is a bit bigger, with 5.5 inch screen. Here are the weights:
My 5.5 inch phone: 171g
Torch, with ribbon: 18g
Ear pieces: 14g
Power-adaptor, plus USB cable: 43g
Steripen, with soft case: 98g
Solar panel: 92g
That is a total of 436g. Without the Steripen, it is only 338g.
The solar panel is not intended to be used on the outside of the backpack while walking, instead only used when stationary. I have explained why, and reviewed the panel here:
http://barryk.org/light/solar/panels-small-2016.htm
I have reservations about the Steripen, as it does not sterilize above the water-line. So water droplets on the inside and outside of the container will not be sterilized -- seems to me that you are gambling each time you use it. Though, if you are careful, the odds are pretty much in your favour.
Here is the manufacturer's page on the Freedom model:
http://www.steripen.com/freedom/
I bought my Steripen from Travel Universe here in Australia, as it was far cheaper than any other Australian retailer (AU$139):
http://www.traveluniverse.com.au/Freedom-Portable-Water-Purifier-SteriPEN/STERIFREE.htm
This is the USB-rechargeable torch that I purchased from Deal Extreme:
http://www.dx.com/p/usb-rechargeable-water-resistant-0-5w-led-white-flashlight-black-orange-255383
If you are curious about what phone I use, it is a Mlais M52:
http://www.mlais.com/html/201503/content_178.html
...not the latest out there, but I love it. It has a 5.5 inch screen, but probably the next phone I buy will have a bigger screen, perhaps up to 6 inches. The bigger screen real-estate is good for browsing the Internet, reading ebooks, and, well, for everything.
Tags: light
July 20, 2016 — BarryK
I am getting the items together for an upcoming overnight hike.
This time I might take my cooking gear, and this post shows what it consists of.
I decided to take my Vargo Triad alcohol stove, that I reviewed here:
http://bkhome.org/news/201606/vargo-triad-stove.html
Almost everything packs inside my TOAKS 700ml titanium pot. This photo shows all the items. On the left are items that do not fit inside the pot (spoon, insulite cozy, bag-closer):
The items are windshield, box of matches, collapsible silicone cup, Triad stove, holder for multivitamins, sponge, folding scoop, folding knife, pot with lid, and carry-bag.
I am intending to do very simple cooking, just boiling water for drinks and cup-a-soup, and for making porridge, so I won't take the Big Sky insulated cozy-pouch. Just the spoon.
Notice the cylindrical shaped orange item -- that is a TOAKS titanium wind shield. I have experimented with various windshields, and I really like this one as it is so light, 16gm including bag, and rolls up small enough to fit in the 115mm diameter pot. Manufacturer's page:
http://toaksoutdoor.com/windscreen2.aspx
Everything fits inside the pot, and the whole thing, including carry-bag, weighs 250gm:
Not too bad, a complete kitchen for 259gm, including the spoon.
There is one other vital item though, the methylated spirits, which is going to double the weight, thereabouts. For an overnighter, or just a few nights, I could use a smaller bottle. I am currently using a 250ml Selleys wood-glue bottle. With almost-full meths, it weighs 220gm.
Here is a photo of the Selleys bottle:
Tags: light
July 20, 2016 — BarryK
A problem with backpacks is they have parts that hang out all over the place. OK when on the back, but not so good otherwise, such as traveling by bus, train or airplane.
I own a Sea to Summit duffle bag, really light (80gm), packs tiny, and just the right size to meet the size requirements for airline carry-on:
http://www.seatosummit.com.au/products/other-essentials/travel-duffle-bag/
Qantas, for example, has published carry-on maximum dimensions of 56x36x23 cm for economy:
http://www.qantas.com/travel/airlines/carry-on-baggage/global/en#carry-on-baggage-allowances
I have been going through my hiking/travel gear, attempting to reduce the weight and improve functionality. I have recently acquired a new backpack, a Zpacks Arc Blast, 45 litre, short-torso (with lumbar-pad and one waist-pouch), weighing just 650gm:
http://www.zpacks.com/backpacks/arc_blast.shtml
My intention is that I be able to insert the backpack inside the duffle bag. The big constraints here are the dimensions, in particular the length.
Only the "short torso" Arc Blast meets my requirement. Fortunately, that size fits me very well, and indeed would fit someone with longer torso.
This photo shows the approximate maximum distance from bottom of waist-belt to anchor-point of shoulder straps, 51cm (or maybe a tad more with some effort). This is with a fairly small bow in the vertical rods of about 30mm.
The anchor-point can be adjusted further down, and I currently have it set about 20mm below the highest point (so about 49cm from bottom of waist-belt):
The main issue though, is the total length of the backpack. It is about 55cm, with the extension section folded down (part of the bag that can extend above the frame).
This is spot-on. A fully-loaded pack, except only filled to height of the frame, fits nicely in the Sea to Summit duffle bag.
Here it is being inserted:
Here I am ready to go:
Of course, I also have the smallest-capacity Arc Blast, rated at 45 litres. That also suits me fine, and is satisfactory even for multi-day treks. But, I travel ultra-light.
Note that Qantas specifies 7kg max, some other airlines specify only 5kg.
But even if you don't want to do carry-on, or can't due to what you have in your backpack (such as stakes), it is great to have all the dangly bits tucked away, and inside a lockable duffle bag, for checked-baggage, bus travel, or whatever.
Tags: light
July 12, 2016 — BarryK
I love so much tweaking my hiking gear, aiming to get the weight down, or improve the functionality. Mid-winter here in Western Australia, July 2016, but as Spring approaches, I will be off on another trek.
I have been fine-tuning my tent requirements. The pyramid type, held up by trekking poles, do not do it for me -- apart from the fact I don't use trekking poles, the fundamental shape, with sides sloping sharply inward, seems very inefficient.
I prefer some kind of dome shape, which means curved poles. Free-standing tents are obviously very convenient, which you get with the crossed-over dome design, not with tunnel-design.
There are various not-quite-dome and not-quite-freestanding designs, and I think that some of these are an excellent compromise.
I have just purchased a tent that hits the sweet spot for me. That ideal compromise. Freestanding (kind of), near-vertical walls near the floor (kind of), superb ventilation, dual-skin, excellent entry-exit options, good vestibules (two), lots of room inside, very fast erection, extreme light weight.
This tent is the Nemo Hornet 2P.
Why buy an exotic Cuben Fibre thing without dual skin, with inefficient pyramid shape, while striving for low weight, when the Hornet 2P has none of the limitations, is cheaper, and hardly weighs any more?
I purchased mine from campsaver.com in the US. Paddy Pallin is the exclusive Australian distributor, however they informed me, when I enquired in June, that it is sold out and no new stock until September. Here is their site:
http://www.paddypallin.com.au/nemo-hornet-2p-ultralight-tent.html
...note the AU$649.95 price. Club members get 10% off, and they have bi-annual sales with 20% off. So, I could perhaps get it at AU$520, if I was patient enough. However, campsaver.com had it on sale for US$295, and I used my USA address at myus.com. Ended up paying about AU$510.
If you are an Aussie, I recommend support your local stores. I would have done, if they hadn't been out of stock for such a long time.
Here is the manufacturer's page:
http://www.nemoequipment.com/product/?p=Hornet%202P
There are some reviews that have the first version of the Hornet 2P, which has a 7D fly (outer skin). I have the 2016 version, which has 10D fly. 10D is stronger than 7D, but still incredibly thin fabric.
But Nemo have gone through the entire tent design and reduced everything to the absolute minimum weight. It really is astounding. This is a two-person tent, and poles, fly and inner weigh just 898gm (measured by me) (31.7 ounces). Add six alloy stakes, with bag, at 91gm, and a carry bag at 27gm, brings it to a grand total of 1.016kg (35.86 ounces).
So far, I have only setup this tent in my lounge room. Just checking it out, how to erect, etc. The floor material is only 15D, and I have reservations about whether it will stand up to the rough ground in the Aussie bush. There is a footprint available, but I will probably use my tarp-poncho as a footprint.
Note that I specifically want a "2P" tent, as I want to place my backpack inside the tent. This tent would be very cramped for two people, but a palace for one person.
I will post a proper review after I have taken it out on a trek.
Youtube videos:
https://www.youtube.com/watch?v=rdlcd9p6J38
https://www.youtube.com/watch?v=NHdVqrUMuXY
Review:
http://sectionhiker.com/nemo-hornet-2p-ultralight-tent-review/
Review of first version (with 7D fly):
http://www.feedthehabit.com/outdoors/nemo-equipment-hornet-2p-tent-review/
June 16, 2016 — BarryK
I recently reviewed the Packafeather XL alcohol stove:
http://bkhome.org/news/201606/packafeather-xl-stove.html
Another stove that I have recently purchased is the titanium Vargo Triad stove. Website:
http://www.vargooutdoors.com/triad-alcohol-stove.html
What this stove has going for it is simplicity, very rugged, inbuilt stand, and light (only 28gm). If the legs are pressed into the ground, that should make it more stable.
In my XL review, I mentioned trying to cook brown lentils. As the Triad cannot simmer, it just burns full-on or not at all, I decided to test my Big Sky Insulite Food Pouch. The idea is, bring the food to a boil, then transfer the pot into the food pouch, where it will continue to cook, albeit slower.
Here is everything gathered together, the pouch is on the right:
The method to light the stove, is first to fill it to just above the little hole in the centre, light it, then when it heats up, the nozzles around the perimeter will ignite. This process is called
priming
the stove.
Some online advice is to hold a flame under the stove for a few seconds to speed up the priming, which I did.
This is what the flame looked like at first:
Then I waited, and waited. It took a very long time before the jets ignited, I didn't time it, should have. Probably a couple of minutes. This is in contrast with the XL, which needed
no
priming time.
Eventually I had a nicely burning stove:
However, what is not apparent from that photo, but is very apparent when I got down lower and looked in, is there is a lot of yellow in the flame. Yellow is a sign of combustion inefficiency. The XL again outshines, as the flame, with pot on top, was totally blue.
When I took the pot off the Triad, the flame was almost totally yellow:
I put the pot into the Insulite pouch, then, as I didn't know how to extinguish the stove, I just watched it until it burnt out.
There is a way to extinguish it, but it doesn't look easy.
Does completing the cooking in the pouch work? Yes and no. I left the pot in the pouch for 1.5 hours and was surprised how hot it stayed. But, that duration was not enough, I put the pot back on a flame for another 10 minutes, then it was soft enough to my liking.
The brown lentils I used are very large. I just happened to have them in the kitchen cupboard. I think that I should have use French Style brown lentils, as they are much smaller (these are grown in Canada, are very tasty, and are sold in Coles).
I'll try the French Style next, see if I can get that cooking time down.
Here is the pouch, with pot in it:
I like the idea of the Insulite pouch. I am thinking that I should have another pot, so that I can boil water, or heat something else, while waiting for the main dish to complete cooking.
Back on the Triad. Well, it does have some things in its favour, as I itemised at the beginning of this post. It doesn't compare well against the XL though.
What I dislike about the Triad is the long priming time, no ability to adjust the flame, inefficient combustion, inability to put in only the amount of fuel that you will need, and it seems difficult to extinguish.