Field test #1: Daylight-pack

By Barry Kauler
Page created: January 25, 2016, updated: Jan. 27

This is one page of a series that I am writing on "traveling light", whether it be hiking in the wilderness or wandering the world by boat, bus, train or air.

In early 2016 I have experimented with ultra-light hiking with only a waist-pack, introduced in my Waist Packs Review page.

Of most interest is the largest waist-pack, the Mountainsmith Daylight pack, and this page is a report on a field-test, a short hike on the Bibbulmun Track, staying overnight in a shelter.

The big question to be answered in this field test is how does the Daylight pack "carry" when fully loaded? Does it remain comfortable after many hours of trekking? Does it bounce or sag too much? Do I continue to feel freer and lighter without a backpack dragging on my shoulders? Read on...

Clothing
As the aim is ultra-light hiking, I have knocked off grams wherever possible, including clothing worn on the day. Here is my outfit: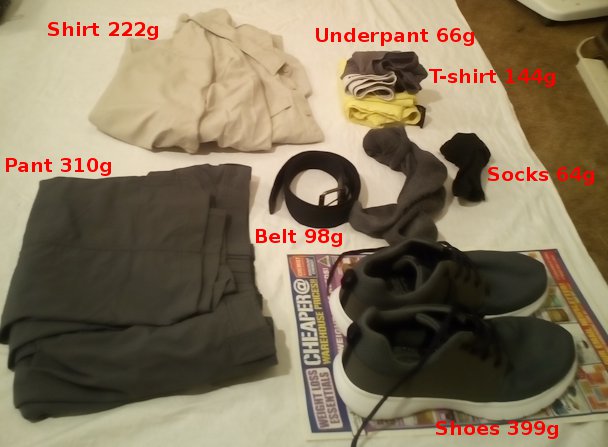 All of the items in my pack and on my person are described in more detail in my Base Load page.

The pant and shirt are Columbia Silver Ridge, the underclothes are el-cheapos, and I decided on a 100% cotton T-shirt as I don't like the feel of synthetic T-shirts. Canvas belt, cheap cushioned socks, cheap casual shoes. Oh yeah, almost forgot my wide-brim hat, 77gm. Total weight was 1.38kg.

There is also a fleece pullover and beany in my waist-pack, in case it gets cool in the evening.

Waist pack
I packed the waist pack with an incredible amount of stuff, with the exception of the food, which was in the belt-pouch attached to my belt at the front of my person. Here is the list: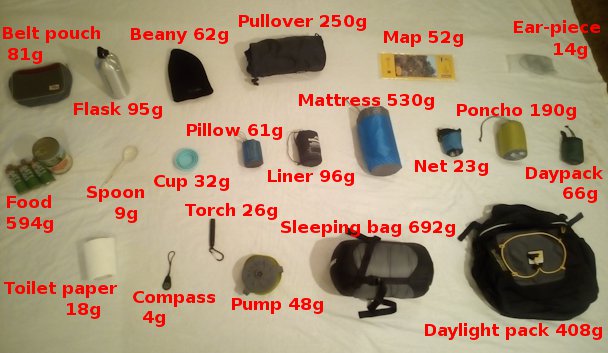 The total weight that I carried in the waist pack, including 750ml of water in the flask, was 3.30kg.
The belt pouch, at front of my person, was a total of 675gm.
Extra items that I carried, in various pockets, are keys, wallet and smartphone. Keys, wallet and smartphone came to 303gm.

So, the grand total, of absolutely everything on my person, was 5.66kg.

The trek
I am a thin guy, light frame, height 5 foot 10 inches, weight 65kg, age 66. A "bad back", was the main factor that set me off evaluating ultra-light hiking and waist-packs. The point is, if I report success on this trip, then anyone else, stronger and fitter than me, will have an even better experience.

My trek took place on January 23, 2016, commencing near the northern terminus of the Bibbulmun Track, Perth, Western Australia.
It is mid-summer, cloudy in the morning, even a bit of thunder, then clearing to a cloudless sky, temperature peaking at 34 degrees Celcius, 28% humidity, cooling breeze. On the 24th, the temperature peaked at 36ºC early-afternoon.

Here I am about to embark: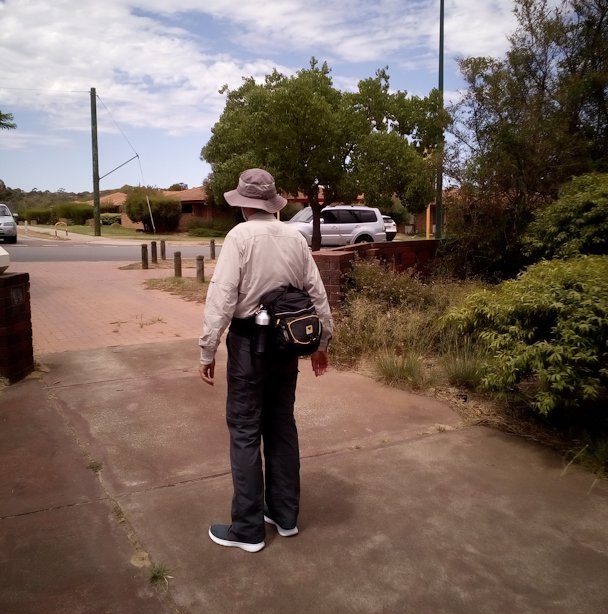 In my Waist Packs Review page, I showed the pullover strapped on top, however, this time, as I left out the towel and a couple of other small items, I was able to fit the pullover inside the pack.

On the trail:



Australia is a continent, with a wide variety of bushland types. This is a snaphot as I walked on the Bibbulmun Track and you can see, the vegetation looks a bit arid and scraggly. This is due to the limited rainfall and hot summers. Periodic burning, although essential, does take its toll on the general appearance.

A shelter:



The shelters are open on one side, with wood bunks inside. There are rainwater tanks and toilet. There is no charge for usage of these facilities.

Conclusions
I only walked to the first shelter from where I got dropped off, and back, about 12km, plus some meandering around at each end, perhaps another couple of km's, so it wasn't an arduous journey. But enough to evaluate the pack and my choice of clothing.
But then I walked an extra 8km on another trail, on the afternoon of the 24th.

It is a great feeling having the top half of the body unencumbered. That is the best thing about a waist pack.
The pack itself was no trouble. I did find myself hitching it up a few times, but that wasn't really necessary and generally it stayed in place, didn't "bounce" nor sink down.

I contemplated that perhaps people with big bums would find that the pack stays even more securely in-place. But with my slim profile, no problem.

My cheap casual shoes and single pair of cheap Bonds cushioned socks were very comfortable. I had no trouble whatsoever with my feet, though it would probably need a longer trek for soreness and blisters to develop.

The load of 3.3kg in the pack is, I feel, close to the limit for a waist pack. A heavier load is going to tend more to leverage out from the back, as there is no frame going up the back to keep it vertically aligned, as with a backpack.

I have hit the limit of what I can carry, unless I resort to using the daypack as well. But then, I think might as well start thinking of one of the ultra-light backpacks, that weigh as little as 600gm, not much more than the Daylight waist pack.

Regarding clothing, no issues, but the higher temperature on the 24th was a challenge. My T-shirt became damp, so I took it off and just wore my shirt. I thought, ideally I would like to be topless and carry an umbrella to keep off the sun!

In summary, it was a very pleasant walk. If I can stay within the weight of no more than say 3.5kg, this is a great way to trek and really enjoy it.

Regards,
Barry Kauler