May 25, 2019 — BarryK
The tag "nomad" in these blog posts is to document outfitting, experiments and general preparedness for future as a "grey nomad", if not permanently, then at least for periodic camping trips. There is actually a section of this website for "nomad", http://bkhome.org/nomad, which will mostly document the final experience.

An essential component of the experience is shelter. Most nomads are to be seen in motorhomes, campervans, caravans, or camper-trailers. However, I have opted to stay with a tent, as long as it can address some issues that I had on previous excursions.

A tent, either kept inside the car, or on the roof-rack, has some advantages. One of those is the sheer convenience of not lugging around a great big thing behind you -- which, apart from the awkwardness when you want to park, turn or reverse, is also more difficult to "hide" discretely somewhere off the road. My ultimate plan is to have a 4wd, and be able to go down rough tracks and camp at hidden-away little campsites.

Back in 2012, when I camped at Windy Harbour on the south coast of Western Australia, I had a very cheap tent purchased from BigW. Windy harbour lives up to it's name, and the thin material tore in one place.

Another issue with the Windy Harbour experience, I recall, was as a senior citizen, I like to have an afternoon snooze. However, it was very light, and hot, inside the tent -- I could feel the heat of the sun on me, right through the tent material.

Fast forward to 2017, I purchased another very cheap tent, from BCF, a simple dome tent, that I think only cost AU$49. It is high enough to stand up in. Let's see, there is a photo on one trip: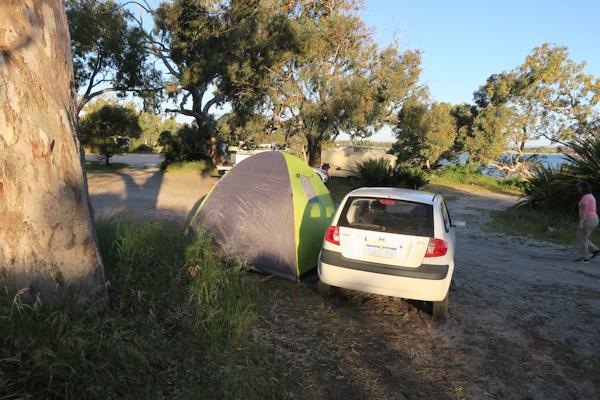 ...quite a nice little tent. It does of course have the brightness and heat issues of the previous one.

Fast forward to early 2019, want something more "serious", for extended camping trips, strong material, cool inside. Tentworld, here in Perth WA, had a sale, and there was a Coleman 4P Instant-Up Gold-Series with vestibule, Dark Room, erected outside the store, and I fell in love with it.

Yeah, that's a long title:
"Instant Up" means that it erects very fast. Not instantly, but delightfully fast.
"Gold Series" means that it is constructed from heavier material than the regular Coleman tents,
"Dark Room" means that the fly (outer liner) blocks nearly all sunlight, making the inside really dark.

It comes with and without vestibule. The vestibule requires an extra step to erect, with some separate poles, but I reckon well worth it, as I can back the car up to it, and even into it -- for planned easy access to storage shelves accessed via the vehicle rear.

have to pay more for all this goodness of course, and it was AU$359. Here is the web page:

https://www.tentworld.com.au/buy-sale/coleman-instant-up-gold-vestibule-darkroom-tent-4PV

The inner part goes up in mere seconds:

Then, throw the fly over the top, and insert the vestibule poles and anchor with pegs:

There is a video on YouTube that shows erection and dismantling (made by Snowys, based in Brisbane):

https://www.youtube.com/watch?v=P1BLA537E6Y
Packing a tent away can be a challenge. The one that I used at Windy Harbour, no way could I wrap it up to fit into the original carry-bag. This Coleman tent, though, on the second attempt, with careful folding, I did manage to put it back into the carry-bag.

I am looking forward to reporting on using this tent.

Tags: nomad