November 28, 2023 — BarryK
The Munda Biddi Trail is for bicycles. It very roughly follows parallel to the Bibbulmun Track, which is for walkers. The Munda Biddi Trail is 1067km, extending from Mundaring (just outside Perth) down to Albany on the Western Australian South Coast:
I aways thought that it would be unsuitable for a recumbent trike, as it is really designed for mountain bikes. The trail varies from fire-roads, to narrow rocky tracks, to sand tracks, and in places very steep. Yes, even the official website says recumbents are not suitable:
https://mundabiddi.org.au/blogs/faqs/what-sort-of-bike-will-i-need-to-ride-the-munda-biddi-trail
However, I was reading this page, and there was mention that someone did the entire length on a tadpole recumbent trike:
http://thelongwaysbetter.blogspot.com/p/munda-biddi-trail-wa.html
I followed the link, to "Every Which Way But Lost" YouTube channel. I don't know his name. He retired from a military career, it looks like about four years ago, and is now touring the world on his Azub full-suspension trike. Here is the link:
https://www.youtube.com/watch?v=vgCFSqRFSmg
The video is 40 minutes; I watched all of it. Very interesting; he did a lot of pushing...
...knobbly fat tyres would have helped. But then, his trike has to be multi-purpose, and knobbly fat tyres are not the best on roads.
After reaching Albany, he went across the Nullarbor Plain to the East Coast of Australia, which is also a very interesting video. Here are all his videos:
https://www.youtube.com/@EveryWhichWayButLost/videos
I was curious how he managed to fly with his trike. He showed a video how he packed it when flying from Bali to Australia:
https://www.youtube.com/watch?v=pECpUi_pVx4
...I wonder what that cost?

Tags: nomad
November 25, 2023 — BarryK
Chatting with people about recumbent trikes, I have been asked this question a few times; "what is it like going up a hill?"
Difficult, because, unlike a bicycle, where you can stand up and put your weight on the pedals, with a recumbent bike/trike, you are lying down and relying entirely on leg muscles. Furthermore, they are leg muscles that you don't use much. It doesn't take very long when struggling up a hill, before "everything hurts".
"Laid Back Mickey" posted a video about this, and why you do need an electric motor:
https://www.youtube.com/watch?v=h-yAnQdMb-k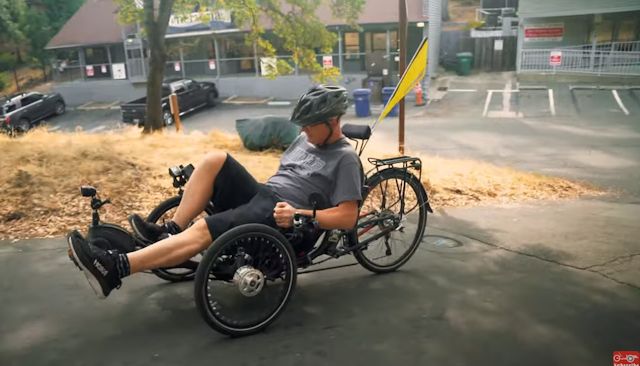 ...either a motor, or extra-low gears, or get out and push!

Tags: nomad
July 23, 2023 — BarryK
I posted about a young couple riding 11,000km around Australia on recumbent trikes, one of them solar powered. They were Azub trikes, and the solar panels were added by the young couple. The link also has information about a ready-made solar-powered recumbent trike, the Motrike/Trikexplor 320E-Solar:
https://bkhome.org/news/202305/outback-adventure-solar-powered-recumbent-trike.html
Since then, I have found other DIY solar power conversions. There was a guy here in Australia who did it in 2014. There was a post to an Australian bike forum, don't know the outcome. Um, might have the link in my browser history; yes, here:
https://www.bikeforums.net/touring/934933-set-solar-trike-tour-us-australia.html
He also posted at the Azub blog:
https://azub.eu/set-on-a-tour-across-usa-and-australia/
About two years ago, I guy in the USA did a DIY solar conversion of a Catrike Road trike and posted videos. Here is one of them:
https://www.youtube.com/watch?v=Jx9LjzPxL7M
And one of his posts about a year ago:

https://www.youtube.com/watch?v=9FAm5R5yNcI
There are more that I stumbled upon. For example, this guy in the USA posted how he constructed the solar panels frame:
https://www.youtube.com/watch?v=Ji3v9UKhvt8&t=68s
...I see in his testing, he connected the solar panels direct to the battery, no MPPT (Maximum Power Point Tracking) controller, so his test result is far from optimum.

Tags: nomad
May 19, 2023 — BarryK
Post deleted.

Tags: nomad
May 18, 2023 — BarryK
Continuing a series of posts about recumbent trikes. When you see "bent riders" cycling along, the thought that does come to mind is what will happen if a foot falls off the pedal and hits the ground ...ouch!
Ha ha, recumbent riders refer to themselves as bent riders.
They also refer to the foot falling off onto the road as "leg suck". This video lists 5 safety tips, including how to avoid leg suck:
https://www.youtube.com/watch?v=Tnad_ibvwY8
...the other four safety issues can be managed; I think the main concern, for me anyway, is leg suck. It looks like mountain-bike shoes are the way to go. These lock onto the pedal, as this video shows:
https://www.youtube.com/watch?v=0HdO5b2Pu1c
These shoes are readily available. For example, here in Australia, the "99 Bikes" retail chain has lots of them, as well as cleats and pedals. Here is a photo of one of the shoes:
This cleat system also is a huge plus factor for long distance riding; as the feet are locked onto the pedals, no energy needs to be expended to keep them there.

Tags: nomad
May 18, 2023 — BarryK
Fascinating what can be discovered online, when one persists with searching.
I have posted about a solar-powered electric recumbent trike available for purchase:
https://bkhome.org/news/202305/outback-adventure-solar-powered-recumbent-trike.html
Yesterday, posted about recumbent rider groups in Australia:
https://bkhome.org/news/202305/what-kind-of-people-ride-recumbent-trikes.html
One of the members of the Adelaide group has built a solar panel on his recumbent:
...interesting, it is a quad bike. My understanding is that in WA and most States, a quad is considered not to be a bicycle and is required to be registered. Maybe the law in South Australia is different. Or, he has been able to classify it as a disabled mobility vehicle.

Today, discovered a website that offers a complete kit:
https://ebikes.ca/learn/solar.html
I have posted this link here partly for my own future reference, as the "learn" section on their website is fantastic.

Tags: nomad
October 05, 2022 — BarryK
Every year, in Spring-Summer-Autumn, I head off on camping trips, some of which are documented here:
https://bkhome.org/light/index.html
https://bkhome.org/nomad/index.html
The camping equipment includes a Waeco 12V fridge and a lithium "powerbox". Construction of the powerbox is described here:
https://bkhome.org/nomad/barrys-lithium-powerbox.html
I leave the powerbox and fridge in the car, the powerbox sits on the passenger-side foot-well and the fridge on the passenger seat. The car window has to be left slightly ajar for ventilation and cables -- which is a problem. The open window has these issues:
Mosquitoes get inside the car.
Rain comes in.
Not secure.

Two cables, one to the solar panel, the other a 12V power supply into the tent. Inside the tent, I run laptop, lights and fan off the 12V.
There is a chair and table inside the tent, but I often like to sit in the car, and that's when I discover the mosquitoes.
I don't expect much rain in the summer months, but it can happen, so that is another problem.
Go for lots of walks, leaving the car unattended, and although they are really nice people I meet at campsites, there may be a rare someone who is an opportunistic thief. The window opening only needs to be open a little bit, so fairly secure.
I thought, why not, put something together out of the aluminium sheet and extrusions in my shed. OK, this is an experiment. Here it is:

The fibreglass mosquito screening is glued on with silicone sealant. Affixed to the window:
It isn't pretty, but should do the job. Will find out how well, very soon.
I constructed it without much forward planning, learnt a few things along the way. If I did it again, would make some changes:
Used 0.5mm thick sheet, as that was all I had. About 1mm thick would be better.
I riveted angle extrusion over the holes, for a modicum of rain protection, but I think a continuous strip of angle the entire length, with notches cut so that it can be bent to follow the curve, would offer better rain protection and rigidity.
Sliding it over the window would be easier if the overlap was graduated. The overlap is 10mm, but next time I would cut the aluminium sheet to say 10mm on the right-side (above photo), gradually increasing to say 15mm overlap. This would make it easier to slide on.

Sometime in the future, if this one turns out well on a camping trip, will probably construct another for the driver's side window, so that there is thru-ventilation. I will endeavour to park the car in the shade; however, on hot summer days the car interior will warm up -- which is not so good for the fridge.
Having said that, the Waeco fridge is incredibly efficient and can easily handle high ambient temperatures.

Keen to go camping!
EDIT 20221006:
Was discussing the window vent with Mark C, and another reason came up why it may be very useful. Sometimes when driving to the South Coast of Western Australia from Perth, I don't get all the way on the same day. It depends which route and which destination, but many rural towns offer free RV overnight, and I have used those, sleeping in the car.
Stayed a couple of times at the free overnight site at the little town of Ravensthorpe:
https://www.aircamp.com.au/campsite/ravensthorpe-rest-area

...a nice place. There are toilets over the road. The town centre is just a short stroll away.
Anyway, this is another scenario where the secure vent is good to have, Keeps out the mozzies and provides ventilation.

Tags: nomad