May 28, 2019 — BarryK
Various tests are underway. This includes further tests on bonding of silicone sealant to various substances, and I am appending to this earlier post as those tests are completed:

http://bkhome.org/news/201905/testing-bonding-of-selleys-401-silicone-sealant.html

Today I setup a water feed to the solar panel, to test wicking properties of the cloth, and the rate of water flow: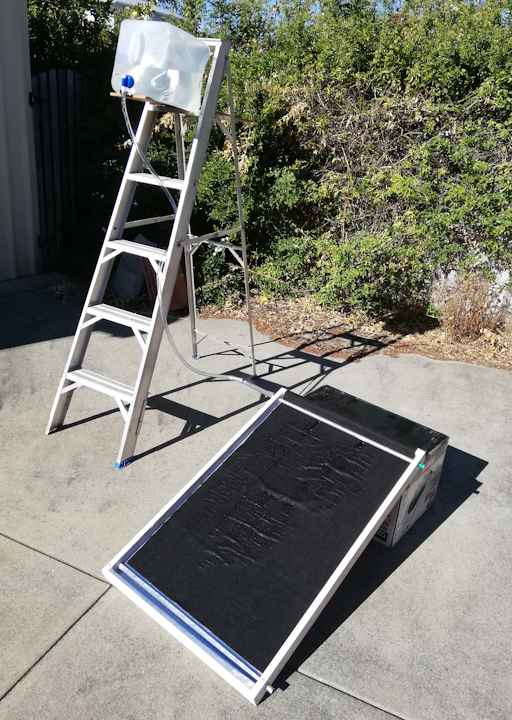 ...you can see the wet area. This was just after starting the flow, and the water was tending toward one side, so used a spirit-level to get the flow to go straight down -- just a small wedge under one corner made the panel level.

The tube at the top has two 2mm diameter holes, and I observed that wetting spread out, but leaving dry patches at the top. So, I think next will try with three holes, and smaller, maybe 1mm diameter -- any smaller than that, I won't be able to drill.

For the record, this is the felt that I am currently using:

https://www.ebay.com.au/itm/ECO-Friendly-FELT-CHOOSE-YOUR-OWN-COLOUR-1-METRE-x-1-8M-/303076030510

The clear PVC pipe was purchased from Bunnings, but it is not UV-stabilized. The manufacturer is Pope, and it is 13mm diameter, matching that of 13mm trickle pipe. I chose this diameter, as can then use trickle-pipe fittings, such as an inline filter -- a filter will be essential in the final product. The "13mm" pipe also matches the tap nozzle at the top, and inlet into the panel.

The final product will require UV-stabilized flexible pipe, so I have ordered this from eBay:

https://www.ebay.com.au/itm/5m-6-25mm-Clear-Silicone-Tubing-Tube-Hose-Pipe-FDA-High-Temperature-Resistance/123692957857

...the size that I ordered is "12x14-5m", which is 12mm inside diameter, with 1mm wall thickness, and 5m long. There is also "12x15-5m" available, which has 1.5mm wall thickness. Perhaps the thinner walled pipe will be more likely to kink.

Glass cut-to-size

Another item of news. Today I picked up the glass, two pieces, 3mm transparent window glass, cut to my required dimensions. Casey, the guy who cut the glass for me, also bevelled the edges slightly, to make the glass safer for me to handle. Total cost AU$90. The business is "Glass Perth" and they will give an online quote:

EDIT 2019-05-30: Bath towel cloth
I have tested a black cotton bath towel, it has superior wicking properties, see report:

http://bkhome.org/news/201905/silicone-on-silicone-and-silicone-on-pine.html

Tags: nomad