March 04, 2020 — BarryK
This has taken me by surprise. I have posted reports on what was intended to become DIY plans for a solar water distiller. Last post here:

https://bkhome.org/news/202002/finishing-touches-to-solar-water-distiller.html

...there have been many prototypes, and the latest is "basin-type prototype-3". Yesterday was a sunny sky, just a few wisps of cloud, predicted maximum temperature of 32 degC, so I decided to test the distiller.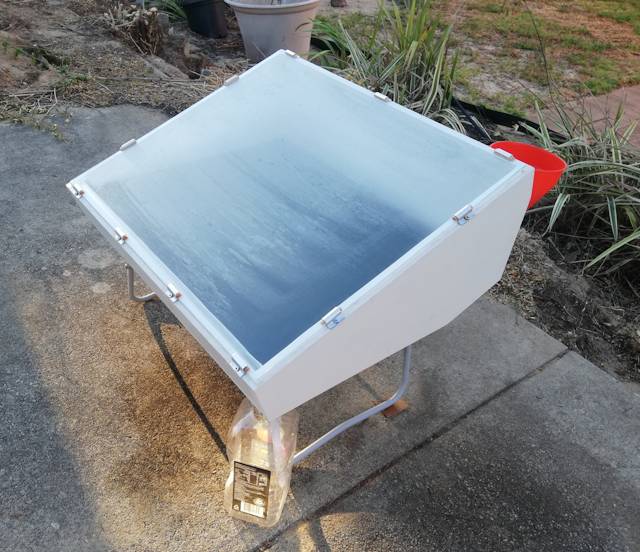 I put in 1.5 litres, then used wood shims under the feet to level the basin -- very easy to do, just make sure the water is spread across the entire surface. Then added another 2.5 litres.

Here are the measurements during the day:

Time
am/pm

Amb.
degC

Sun
W/m2

Top
degC

Back
degC

Comment

9.05

24.4

850

28.3

26.2

Full sun at 8.15am

10.05

25.5

940

38.9

30.2

5mm water in bottle

11.05

26.7

975

50.1

35.3



12.25

28.2

980

62.1

44.2



1.05

29.2

999

65.8

44.5



2.15

30.6

980

63.8

45.3



3.15

30.5

930

60.6

45.5



4.20

30.5

820

51.8

41.1

Stopped at 6.00pm

Total collected distilled water: 1.23 litres

That is not as much as expected. See here for comparison:

https://bkhome.org/news/201912/solar-distiller-showdown-take-2.html

And for the record, some further analysis that lead to design of the latest prototype:

https://bkhome.org/news/201912/further-analysis-of-basin-type-distiller-test.html

The current design, with 20 degrees glass slope, has very large side-walls, and the temperatures measured on the back outside are rather high. I might construct insulation on the side walls and test again. Note, those top and back temperature measurements were taken with the IR meter held about 2 inches away from the surface, about 3/4 the way up the glass and the back side.

Tags: nomad