May 13, 2020 — BarryK
Here in Western Australia, we have restrictions where we can drive. As I live in Perth, I am only allowed to go camping in the Perth-Peel Regions. Though, from Monday 18th May, this will be eased and driving will be allowed to the Wheatbelt, South West and Great Southern Regions. That is good, but most of the grey nomads would prefer to be able to drive north, toward warmer climate.

I checked out what DPAW campgrounds are in the Perth-Peel Regions, and also don't require pre-booking. Not much choice, in fact, no choice, only Nanga Mill and Nanga Townsite campgrounds are first-come-first-served, no booking. So, decided to get away for a couple of days.

If you live in Perth and just want a quick get-away for the weekend, it is a good choice, only about 1 hour and 30 minutes drive. You drive south from Perth, on the South Western Highway, through Byford, then before Pinjarra there is a turn-off to the left, to Dwellingup. Arrive Dwellingup, turn left at main street t-junction, go out of town, and Nanga Road is on the right.

Here is the DPAW page:

https://parks.dpaw.wa.gov.au/site/nanga-mill

Concession price is AU$8 one-time entry fee per car, and AU$7 per night, per person.

I have to admit, these days I prefer coastal camping, just find the ocean, beaches, etc., so much more interesting. But, thick bushland, tall trees, do have some attraction.

Tall trees, yes, nestled in a valley beside a stream -- very nice, but a problem for my solar panel. I chose the sunniest spot, and got sun from about 9.00am to 2.30pm -- either side of those times the sun was partly obscured by trees. Winter here, so the sunshine hours will be more in the other three seasons.

This is my camping spot, I am on the right: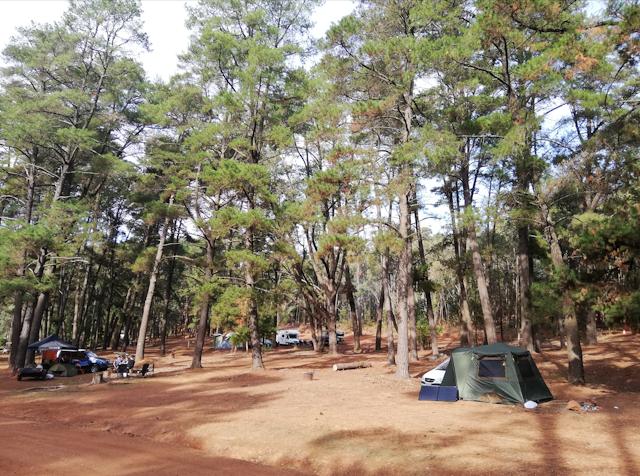 ...doesn't look like many people camping there, but there were, lots of people, spread along the stream bank. Most of them were in more thickly-treed spots then mine.

It was interesting to observe the type of people there. More of the city get-away-for-a-few-days crowd, than holidayers and grey nomads. Consequently, some of the groups were "living it up" a bit more than I am accustomed to.

The group next to me, on left in above photo, had a radio running from arrival until late at night. On the other side, a fellow played "bongo drums".

The campsite does not have a camp kitchen, but does have open-air gas barbecues and fire pits. Many groups availed themselves of the latter, and there was a pall of smoke thoughout the campsite in the evening. I don't mind smoke though. Here is one of the barbecues and one of the bigger firepits:

...the gas is free.

The campsite runs along a stream, which was no more than about 12 inches deep at the deepest, so paddling only:

I didn't see them, but apparently some of the nearby campsites have places where you can swim.

So, what is there to do, apart from paddling in the stream? There are walking trails, various lengths, up to an 18km loop.

So, thumbs-up or thumbs-down? Personally, I would have preferred a covered kitchen area, and gas-ring stove would have been nice. I spotted one tap, with non-potable water. There are toilets, the deep-drop kind, and they were clean and didn't smell.

You have to bring your own wood, and bags are available in Dwellingup for $10. I have been to DPAW campsites that have wood available for free.

No phone signal, though there is a notice that Telstra intends to put a tower there. Radio reception on AM band had a lot of background hiss and only one station, 558KHz, was listenable. Nothing on FM.

Yeah, overall OK. Depends what you want. A weekend get-away with your friends, then ticks the boxes. As a stop-over as you do the "big lap" around Australia, ticks the boxes also. After a few days, most people would be bored and would want to move on, I reckon -- but then, everyone is different, and some might like an extended stay, just going for long walks. Here is some feedback at TripAdvisor:

https://www.tripadvisor.com.au/Attraction_Review-g495055-d8009885-Reviews-Lane_Pool_Reserve-Dwellingup_Western_Australia.html
...some of the other campsites, that require pre-booking, within Lane Pool Reserve look very interesting.

Tags: nomad