July 05, 2020 — BarryK
The State of Western Australia is in a fortunate situation, as it is coronavirus-free. The only cases are those of returning international travellers, and they get isolated for two weeks. As far as the rest of Australia is concerned, unfortunately, Victoria has let the country down, with many new cases every day -- which was caused by incompetent isolation of returning international travellers -- it was mostly the security guards, apparently, who were responsible for spreading the virus from the isolation-hotels to the wider community.

Anyway, here in WA, we have had competent handling of the crisis, and we are just about back to normal. I am getting around on public transport and going to favourite restaurants. Today, went for a hike, before some lunch and shopping...

While considering where to hike in the Rockingham-Warnbro area of WA, I stumbled across "metrotrekker" Marc's website:

https://www.metrotrekker.com/search?country=All_Countries&city=All_Cities

Marc hikes in metropolitan, or outer-metropolitan, areas, accessable at each terminus by public transport. He has hiked in Europe, Japan, Singapore and Australia. I wanted to walk around Lake Walyungup, and found that he has done that:

https://www.metrotrekker.com/australia-perth-hiking-a-walk-on-lake-walyungup

I drove there, but if you come by public transport from Perth, take the Mandurah Line and get off at Warnbro Station. This is about 37 minutes train journey. Walk East from the station, along Safety Bay Road, not far, and you will see a parking spot on the right, and a very small one on the left. On the south side, there is an entry gate to the lake: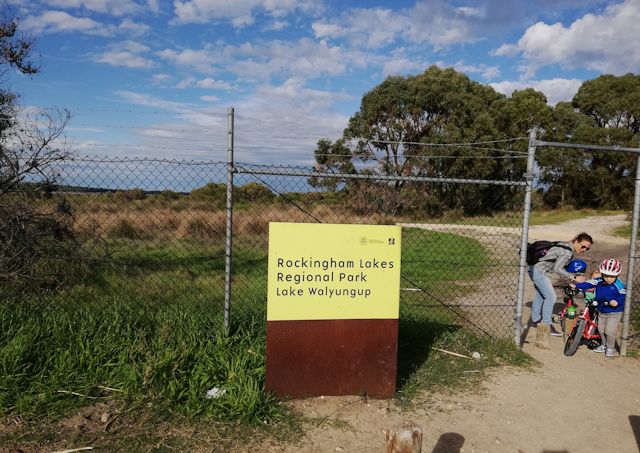 ...the time is about 10.00am, on Sunday, July 5, 2020 (mid-winter), and there were several cars parked, so other hikers were encountered.

What's so special about this lake? Nothing in particular. Perth is located on a coastal sandplain, so that is the kind of terrain, sand and limestone. South of Perth City, the suburbs have sprawled right down to Mandurah and beyond, and there is a metro train line that terminates at Mandurah, running through Rockingham and Warnbro.

There is a military base on Garden Island, close to the coast just north of Rockingham, and they used Lake Walyungup for target practise, and I saw the warning: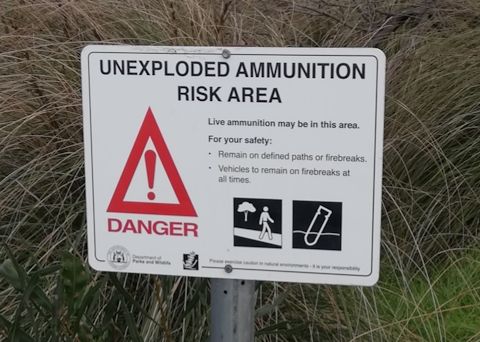 No longer of course! As to footpaths, there are some, but it is mostly a huge expanse of flat sand and limestone: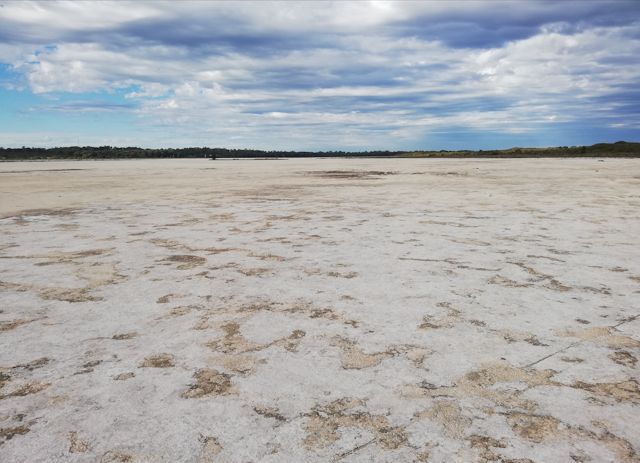 ...there isn't much water, and the ground is firm, as it is limestone sprinkled with sand.

Google map shows lots of water, but it is in actuality much less. I walked south, on the west side of the lake, then cut across east, and walked back on the east side of the lake. It seems that there are two bodies of water, so walking south from the entrance, one can walk east across the land that separates the two bodies.

I then walked north along the east side of the lake, and took a photo to prove that there is still some water here: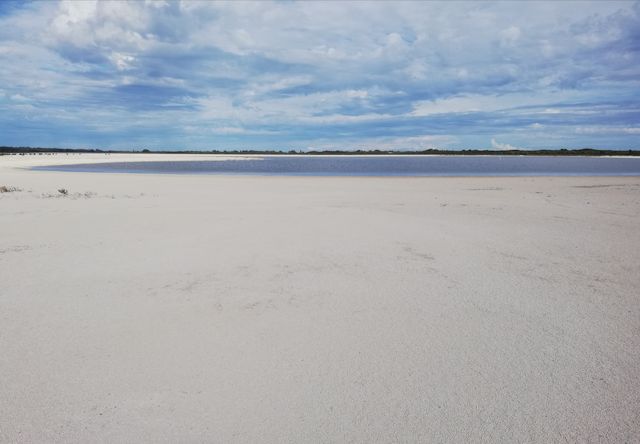 I ambled about a bit, and the walk took about 2 hours. If someone walked closer to the water, the walk around it and back to the car park, would be about 1.5 hours, maybe less.

A pleasant walk, no spectacular scenic features, but of interest to observe the type of terrain and plants.

Stealing Marc's map of where he walked: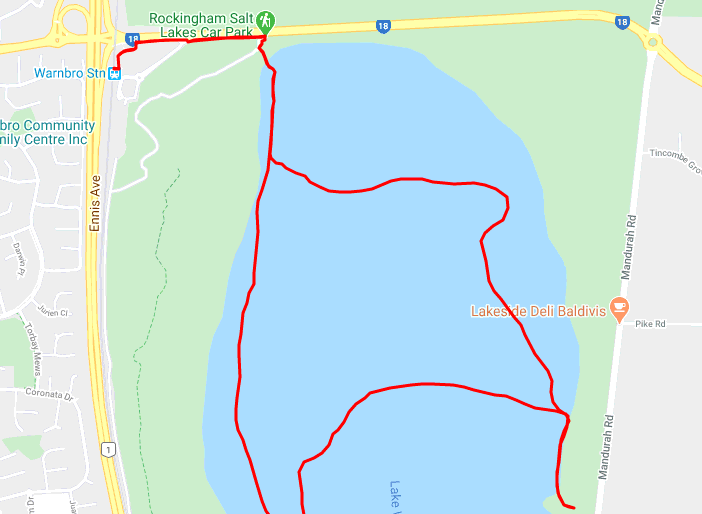 ...in my case, I walked down the west side of the lake, until I saw that Lakeside Deli directly east, then walked across. I could not see any access to the deli, nothing easy anyway. Instead, I went back to my car and drove to the nearby Waikiki Shopping Centre and bought a Jesters pie and chips for lunch -- hey, there is a lot to be said in favour of urban trekking!

Tags: nomad