October 05, 2020 — BarryK
Yesterday I posted some "before photos", and there was a comment about the Feijoa not growing:

https://bkhome.org/news/202010/garden-before-photos.html

However, this morning I spotted budding!

The guy I bought the Feijoa from, had grown it from a cutting, and had encouraged it to grow as a single stem. I told him that I wanted it to be bushy rather than a tree, and he advised me to cut off the tip and strip off all the leaves.

Well, I did cut off the top of the Fejijoa, but left the leaves - just cut them in half. Here is a photo taken this morning:

...almost every leaf has new buds. Fantastic.

Perth is located on a coastal sandplain, so the soil is not rich. Well-drained though. Here is the photo that I posted yesterday: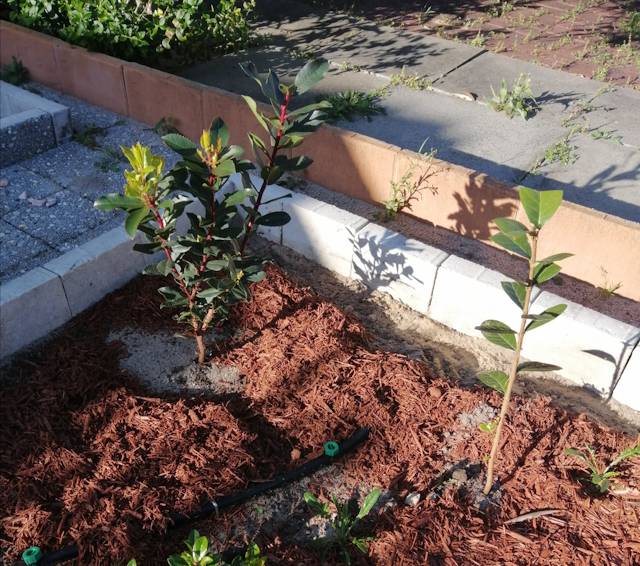 ...there is some mulch scattered around. The mulch is various kinds of tree bark I think.

Prior to planting I dug in some chicken and cow manure, and there is also some slow-release granules scattered around.

This morning I added about an inch of "premium mulch" from a local soil and garden supplies place, described as:

A MUSHROOM FARM COMPOST BASED MULCH, WITH PIG MANURE, STRAW, SAWDUST AND LIQUID MANURE. A FINE MULCH SUITABLE AS A COMPOST , SOIL CONDITIONER, AND AS A MULCH.
Keeping a small gap around the stem of each plant. However, what worries me is whether I have over-fertilised. Will soon find out I guess.
In the above photo, bottom-right, you can see some small plants. These are Gazania Pink Kiss (Gazania splendens) seedlings:

https://www.floriana.com.au/natural-beauty/gazania/pink-kiss/

There are many varieties of Gazania, Gazania splendens, alternative name Gazania rigens, are native to South Africa. Gazania splendens/rigens thrive in sand and drought conditions. It will be interesting to see how they respond to the enriched top dressing.
Tags: general