February 25, 2021 — BarryK
On the last overnighter with the waist pack, carried about 4.5kg, which is too much. Possibly could use shoulder straps, but would like to explore reducing weight enough so that the tensioning straps on the waist pack will be effective to stop bounce.
Also the hip belt and tensions straps should be sufficient to stop the pack from sliding down, without having to tighten the hip belt to the point where it becomes uncomfortable.

This post is reconsidering the base load, leaving out everything that either isn't absolutely needed, or can potentially be replaced with something lighter. Shelter and sleeping items will be out.

So, the photo of the items becomes this:

The weight of what remains is 1403g.

Before considering alternatives to the tent, sleeping bag, etc., can this 1403g be reduced? Let's see...

Bathroom kit

This was 73g, now 71g after brushing the teeth on the last-weekend hike. Here are the contents:

Listing the contents:

Toothpaste
Fix-o-mull tape
Toothbrush, with head enclosure
Antiseptic wipes
Bandage(s)

The heaviest item is the toothpaste, at 47g. I cut it down to 39g: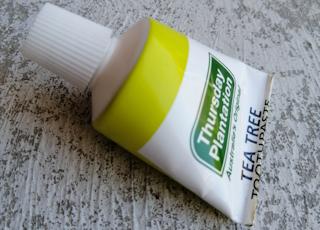 ...the tube is plastic, and attempted to melt the end on a stove hot plate, however, the inside looks like it is metalized and it didn't melt together.

Dentists sometimes have sample tubes of 25g or thereabouts, and perhaps they are available on eBay.

Antiseptic wipes in individual sachets are readily available from pharmacies. I have "Povidone Iodine swabs", not because they are particularly good but because they are the only type my local pharmacy stocks. Haven't tested them yet.

Fixomull (sometimes known with hyphens, fix-o-mull) tape goes by various names, but my pharmacist knew what I wanted when I asked for it by that name. It is a very small roll.

Head enclosure for a toothbrush is also readily available. You might find them in those knick-knack stores, like RedDot here in Australia, also on eBay. They are just little plastic containers that snap over the toothbrush head, and probably you would have to buy a set of them, even though you only want one.

The weight of the bathroom kit is now 63g.

Kitchen kit

Made the decision not to do any cooking on these short hikes, so the kitchen kit is minimal: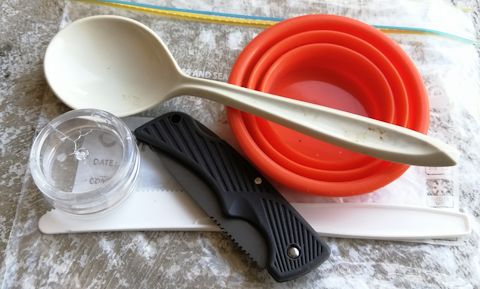 Listing the items:

Sea 2 Summit plastic spoon
Pill holder
Collapsible silicone cup
Folding knife
Disposable plastic knife

The total weight is 81g. The folding knife is 25g, but do I really need it? Decided no, so have taken it out, and the total weight is now 55g.

Electrical kit

I carry a phone in a pant pocket, and the electrical kit has support parts for it, as well as a tiny headlamp: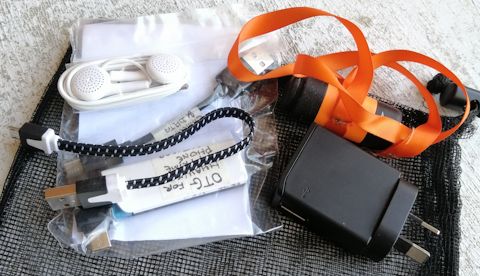 Total weight is 102g. Item list:

Headphone "earpods"
USB-A male to USB-C male cable
USB-A male to micro-USB male cable
USB flash drive and OTG adapter
Mains power charger
Headlamp

My phone has a USB-C charging socket, the headlamp has a USB-A male charging plug, so can get rid of item 3.

The solar panel and mains charger both have a USB-A female socket, so either can be used as a charging source.

The headlamp is tiny and lightweight. It is rechargeable, with a USB-A male plug. I attached a ribbon as a headband, and total weight is 16g. Back in 2016, these tiny torches were available from various online vendors. I bought it from DealExtreme, but it is no longer there. Ah, eBay has something similar, search for "torch rechargeable keyring".

Just realised that if want to charge the headlamp from the solar panel, due to the USB-A female socket being flush with the panel, will need a short USB-A male to USB-A female cable. Adding 17g.

The collapsible silicone cup was available all over the place in 2016. I bought mine from Kmart.

The phone has a micro-SD card, so really do not need the Flash drive and OTG adapter. Remove items 3 and 4, added a cable, and the weight becomes 94g.

You might be thinking that these weight reductions are negligible, and you would be right. Anyway, keep going, see if can get the reductions to add up to a non-negligible amount...
Sawyer filter

I consider this to be essential, to filter water from the rainwater tanks at shelters, or from dams, ponds and streams. Especially since I intend to carry very little in bottles. Weight 114g. Here are the components:

The straw is for drinking direct from pond etc (through the filter of course).

The collapsible bottle is filled with dirty water and then squeezed through the filter -- except that the instruction to "fill the bottle" printed on the outside, can be a challenge, as it wants to stay flat. This seems to be the weak point in the whole system.

The syringe is for back-flushing clean water through the filter, to wash out accumulated particles. That can be left at home. It doesn't weigh much, but occupies a lot of space.

That squeeze-system flat bottle remains the one annoying thing. Easy to fill from a rainwater tank, but not from pond or dam. Will have to live with it.

So, only taking out the syringe, the total weight is 82g.
Toilet kit
This consists of a small roll of toilet paper and titanium trowel. I bought the trowel several years ago, from the USA, a guy who made them in his garage. There are plenty of alternatives.

Warm layers

The photo at top of this post shows puffer jacket, windcheater and beany. Regarding the beany, there are lighter ones, designed for hikers and cyclists, about 50g, so intend to shop around for one of those.

Thinking about coping in a cold spell, gloves would be good to have. I have a pair that are very warm and lightweight, only 60g, so although this post is supposed to be about reducing weight, have added the gloves.

Estimated weight of beany and gloves will be 110g.

Base load total

Adding them up:

| | |
| --- | --- |
| Daylight pack | 408 |
| Puffer jacket | 192 |
| Windcheater | 95 |
| Beany & gloves | 110 |
| Water bottle | 57 |
| Water filter kit | 82 |
| Toilet kit | 38 |
| Bathroom kit | 63 |
| Kitchen kit | 55 |
| Electrical kit | 94 |
| Compass | 4 |
| Solar panel | 92 |
| Head net | 24 |
| TOTAL: | 1314 |
Total weight carried in the Daylight pack, including the pack itself, is 1.31 kilograms.

Note that insect repellent is not included in any of the kits. This is because I have always taken it, but never used it. I prefer just to put on the head net.

In the next blog post, I plan to consider alternative, and possibly radical, lightweight alternatives for shelter and sleeping.

Tags: light