April 13, 2019 — BarryK
...because they aren't, they are PWM regulators.

As posted a couple of days ago, I have ordered a 250W solar panel:

http://bkhome.org/news/201904/large-250w-solar-panel-for-camping.html

I currently use a very cheap PWM regulator, model CY1220, rated for 20 amps. Took a photo for the 2017 camping report:

http://bkhome.org/light/off-the-grid-camping-trip-2017.html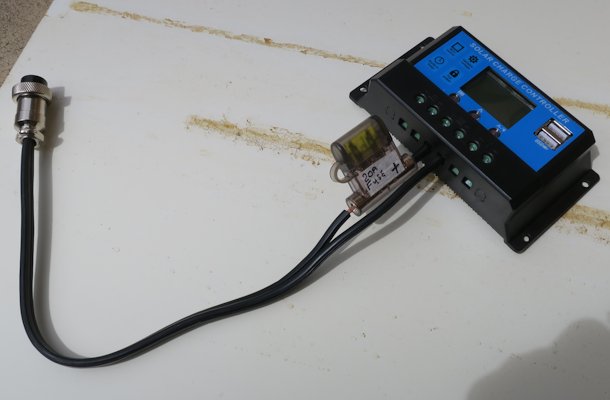 An MPPT controller has a distinct advantage, that it draws from the solar panel at it's peak-power point. Say for example, that is 17.5V @ 13A. Whereas, the battery voltage, for lead-acid batteries, would be somewhere between 12 and 13.7V, let's say it is 13.2V. The MPPT regulator will convert to the battery voltage, and charge at a higher current. If the regulator is operating at 100% efficiency, the input power for this example is 17.5x13 = 227.5W (watts). Right, so the output will be 13.2xA = 227.5, where "A" is the amperes. Do the maths, A=17.2.

You see, 13 amps coming out of the panel, 17. amps going into the battery. A PWM regulator cannot do this!

One downside of the MPPT regulator, is that it does draw some idle-current from the battery, even when the solar panel is not charging. Meaning, if the regulator is attached to the battery, it will be drawing this current 24 hours a day.

The bad news is that most of the cheap Chinese solar regulators that claim to be MPPT are not. Tests have also shown that the idle current on those that are MPPT, is much higher then claimed, for example 50mA instead of the claimed 5mA.
Also, they are not 100% efficient. Some cheap ones claim 99%, however, I very much doubt this. I think, one tester on youtube reported getting about 95%.

One of the testers on youtube is Adam Welch. Here he tests one of the cheapest claimed MPPT regulators, model CPY-2410:

https://www.youtube.com/watch?v=05IcvuI7kJ8

...yes, it is a genuine MPPT. Most unfortunately, however, later versions, in the same box, same CPY-2410, have a different internal design and are NOT MPPT! This is the minefield that you have to wend your way through, if you buy one of these.

After Adam had reported the CPY-2410 works great, and getting some negative feedback, here did a follow-up video:

https://www.youtube.com/watch?v=Zxy5JBUuFaQ

This chap also, ended up being disappointed:

https://www.youtube.com/watch?v=nT6TqVQVB6U

The electronic engineer in me has become intrigued (that's what I used to do, before retiring). So, I have ordered a couple of the 20A versions, the CPY-2420. Ordered two, with different model numbers...

This one, with voucher code, cost AU$46.71, photo shows "CPY-2420" but the specs show "CY1220-MT":

https://www.ebay.com.au/itm/20A-MPPT-Solar-Charge-Controller-PV-Solar-Panel-Battery-Regulator-12V-24V-W-USB/232961637443

And this, cost AU$48.44, photo and specs both show "CPY-2420":

https://www.ebay.com.au/itm/20A-MPPT-Solar-Charge-Controller-12V-24V-PV-Solar-Panel-Battery-Regulator-W-USB/192601142293

Keen to test these, and find out if they are true MPPT! And test other specs, such as idle-current and efficiency.

I have a 120W panel to test with. When the 250W panel arrives, will test with that, in fact, that is the one that will be used in future camping trips. But, it puts out up to almost 14A at peak-power point, claimed anyway, which could be up around 18A into the battery ... and perhaps that is flogging the regulator beyond it's capability.

Ultimately, might have to go for a 30A or 40A rated MPPT regulator, and one with LCD display, and the cheapest is about AU$170. We shall see, will find out what these cheapees are capable of first.

EDIT 2019-05-22:
Have tested the regulator, and confirmed that it is genuine MPPT:

http://bkhome.org/news/201905/mppt-regulator-is-genuine-mppt.html

Tags: light
April 12, 2019 — BarryK
EDITED 2019-04-27: Edits in bold red

I wrote about a 100 watt flexible panel, tested in 2017:

http://bkhome.org/light/off-the-grid-camping-trip-2017.html

Now getting setup for extended camping trips, in the spirit of being one of those "grey nomads", and taking another look at the solar panel requirement.

That "100W" flexible panel, yeah, I was only getting 2 amps out of it. Was so disappointed in it, never bothered to do any further testing, and it just got stored in the shed. Yesterday, I was reminded of it by this video:

https://www.youtube.com/watch?v=3-sc4rlV93g

...that guy is in my home State, WA, and he purchased one of the panels, the expensive one, from a well-known retailer in Perth, WA.

Very interesting that his el-cheapo panel, that he ordered off the Internet, performed so well. He mentioned that it is a "Sunyee" panel. Yes, that is an Australian on-line site:

I was curious to know who that chap is, who posted that video. Followed the links:

G'day guys, thanks for stopping by! Who am I? Nobody really, but I do love being in the great outdoors whenever I can get away from the grind. Ever since I bought my first camera I have enjoyed creating short videos, more recently I have been filming my 4wding and outdoor adventures and sharing them with the world. My Mazda Bt50 (Cyan) gets me around WA and sometimes friends tag along for the journey too. I hope you guys enjoy the channel and have a laugh or two 👍. Thanks, Michael
Michael, I liked your video, and the others look great too!

In response to some of the comments on the youtube site, just measuring current is probably OK. As long as the panels have the same number of cells. Using the cheaper PWM regulator is probably the closer comparison.

Anyway, about the 250W panel...

250W folding panel

I own a 120W folding panel, but it is extremely heavy. I have a bad back, and this was what motivated me to buy the 100W flexible panel. The WA Camping and Caravanning show was on recently, and I got to see a new range of light-weight folding panels. The "250W" panel is very light, just 8Kg.

The heavy folding panel and the flexible panel will probably be going cheap soon at a garage sale, and maybe I will have moved on to one of these new light folding panels. XXXXXXX sell them, and with a discount voucher, the price including delivery, is AU$288.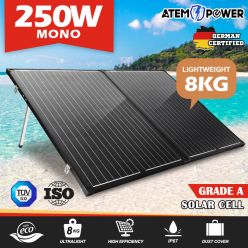 So, have ordered it:

Link removed for legal reasons

Except, I ordered mine from a company called "XXXXXXXX":

Link removed for legal reasons

...looks like the same thing, same price.

Most intrigued, quite a small panel for the claimed 250W. We don't expect that much anyway, at best 75% of what they claim. Eagerly waiting to test it!

Link to testing the 250W panel:

http://bkhome.org/news/201904/atem-power-250w-solar-panel-is-a-dud.html

Tags: light
April 06, 2019 — BarryK
I recently contemplated the issues of being a "grey nomad" of-no-fixed-address:

http://bkhome.org/news/201903/grey-nomads-of-no-fixed-address.html

One of the main websites for grey nomads, and grey-nomad-wannabes like myself:

http://www.thegreynomads.com.au/

They have a monthly newsletter, and here is the April edition:

http://www.thegreynomads.com.au/GreyNomadTimesIss195W.pdf

On their website, you can subscribe to receive it via email.

There is an interesting article, a chap who is an experienced driver, trucks and caravans, was driving at only 95kmph on a straight road, when his caravan started to sway "for no reason". It was written-off, and he used the insurance money to buy a motorhome.

He had taken all the precautions, seemed as had the right equipment, yet the sway still happened. Perhaps the ratio of caravan-to-car needs to be different, that is, a bigger and heavier car and/or smaller caravan.

Tags: light
March 18, 2019 — BarryK
In Australia we have a phenomenon known as "the grey nomads", retired couples or individuals, who have taken to the road with caravan, motorhome or campervan, periodically or permanently.

The "permanent" category is very interesting. These are people who have sold their house, or maybe have rented it out, and are on-the-road indefinitely.

Grey nomads even have their own websites and forums, such as this one:

http://www.thegreynomads.com.au/

Those who no longer have a permanent address, have issues with the authorities. The Australian Electoral Commission recognizes "itinerant voters", so voting in Federal and State elections is not a problem -- they just use your last residential address as your location for State elections.

However, the driver's license does require a fixed address, as does vehicle insurance. There is a lot of discussion on the forums as to what to do about this, and most people use a son or daughter's address, or a friend.

One complication is that you have to keep moving. If residing in a State for more than three months, it is required to have the vehicles re-registered in that State. Apparently, the police do actually check that, if they pull you over for whatever reason.

Another possibility is to find a caravan park with very cheap permanent rate. So you pay for it even when not there. That way, you have a permanent address for mail and to come back to. There are some caravan parks that cater to this and charge less while you are away.

This is tempting. I am currently "between houses". Sold my place in the countryside several years ago, now living at a relative's house. Was planning to buy a place in a country town, but hey, no rush, this permanent grey nomad gig might be worth a try.

Thinking of that 9ft Euro Glider caravan, what a challenge it will be to reduce all belongings down to fit in that van!

Tags: light
March 12, 2018 — BarryK
How about this, a 9ft caravan with ensuite!

These are made in Poland, brand name Niewiadow, and imported into Australia as the Euro, and the UK as the Freedom.

What got me thinking about this, is last time that I went camping with my tent, it took almost an hour to set everything up. Put up the tent, unpack everything from the car. Hunt around in various boxes, "where did I put that?", etc.

Wouldn't it be nice, I thought, just to stop the car, get out, open the caravan door, and that's it. Have an arvo snooze if I want, whatever.

Maybe I'm getting lazy.

Anyway, it is quite incredible what can be fitted into 9ft. I haven't seen inside this one, just pictures and videos, but I have looked inside the next-up model, 10ft long. I am 5ft 10inches, 178cm, and ceiling height on both of these is about 180cm, so I just make it.

I think that 180cm is with the popup hatch down, so with it up, a taller person would fair better. This video shows a tall person inside the UK variant:

https://www.youtube.com/watch?v=i_hGLIKwwjc

...that's the 3-berth, without ensuite. Here is a video of the one with ensuite, UK variant again:

https://www.youtube.com/watch?v=FE1yQ9jZpWE

The Australian distributor for the Euro is here:

https://www.euro-caravans.com.au/models/glider/

UK distributor for the Freedom:

https://freedomcaravans.com/caravan-sales/new-caravans/freedom-microlite-discovery/

Note, comparing the Euro Glider and Freedom Microlite, the models with ensuite are slightly different layout. Fridge and clothes-closet are on opposite sides. I reckon the Euro is a better choice, with fridge on door-side.

I think that something like the Glider is a much better choice than a tear-drop caravan or camper-trailer, where you have outside kitchen, in fact have to do most things outside, just go inside to sleep.
But, I guess that depends on your preferences, some would say that going camping means being outside a lot.

Anyway, it is fun to look at this kind of stuff!

Tags: light
December 21, 2017 — BarryK
Planning to go hiking again soon, and was reminded of a very light-weight solar panel discovered by 'kimperator':

http://bushwalk.com/forum/viewtopic.php?f=21&t=22455#p319500

Back in February 2016, I obtained a "5 watt" 5V panel, model SE05, that weighed 127gm, which I cut down to 92gm:

http://bkhome.org/light/solar/panels-small-2016.htm

We were discussing these panels on the Aussie bushwalking site, and kimperator posted about his discovery, that he reported weighs just 84gm, and he recorded about the same output as my SE05, that is, around 4.7V at 0.7A, which is 3.3W.

This is too good to resist. It is not specifically stated that the USB output is regulated to 5V -- as I have reported in the above post, that is potentially a problem if not. We shall see.

I ordered it from here, cost was US$13.03 including postage to Australia by Singapore Post:

https://www.aliexpress.com/item/Hot-Sale-Portable-5V-Solar-Power-Charging-Panel-Leaflet-A5-Charger-USB-For-Mobile-Phone-Smartphone/32697768858.html

It can also be found on eBay:
1
2
Tags: light
October 11, 2017 — BarryK
Getting ready for another camping trip, and have started a report on the gear and experiences with using it:
http://bkhome.org/light/off-the-grid-camping-trip-2017.html
Will probably also take my Waeco camping fridge, TV, laptop, folding bed, folding table, folding chair, tent.

Tags: light