February 22, 2021 — BarryK
The first time I went on an overnight hike with the Mountainsmith Daylight waist pack, was in 2016:

https://bkhome.org/light/field-tests/ft1-daylight.htm

Fast forward to 2021, and I have just got back from an overnighter test of the same pack, with some different gear and heavier load. A photo shows the load:

https://bkhome.org/news/202102/waist-pack-packing-list-for-2021-hike.html

The biggest additional item is the Aricxi tipi-style tent:

https://bkhome.org/news/202102/planning-equipment-for-next-ultralight-hiking-adventure.html

The route this time was similar to that taken in 2016. I caught a bus to the town of Mundaring, then walked south along the Munda Biddi Trail, to the Mundaring Weir Hotel, then walked east along the Bibbulmun Track to the Ball Creek Shelter. Camped overnight in the tent, then next morning followed old fire trails heading roughly north-west to join the Munda Biddi Trail and hence to Mundaring then bus back to Perth.

Attempted to do a selfie showing wearing of the waist pack, unsuccessfully: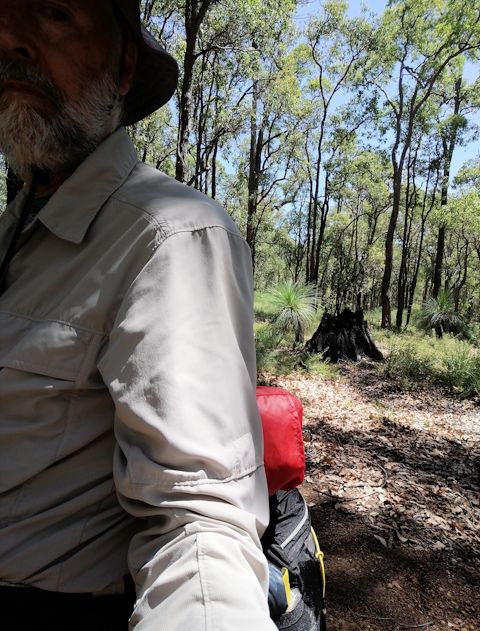 ...but you get a peak at the bushland I'm walking through.

The weight was about 4.5kg, and my report is that is a bit too much. I coped, and walked in total about 21km, but the pack did want to sink onto the buttocks. The much-lauded tensioning straps, that pull the upper part of the pack against the back, had trouble coping, and there was some bounce.

The big-ticket item in the pack was the tent, to be held up with a carbon fibre pole. Unfortunately, the fixed-length pole is not suitable, a variable-length trekking pole is required. I have reported this problem to the Australian Bushwalking Forum:

https://bushwalk.com/forum/viewtopic.php?f=58&t=32613

An extra comment: getting the tail-pole to stand up is a pain. Yes, you can tie a cord to it, but then the fly (outer) tent won't fit. The fly has to be staked down firmly to hold the pole upright, and there is no positive locking to keep it upright. Very poorly designed.

From the feedback on Aliexpress, there are people who like this tent, but not me. I do not recommend it. In fact, it has put me off tipi-style (pyramid) tents entirely.
Here is a photo showing the inner tent erected: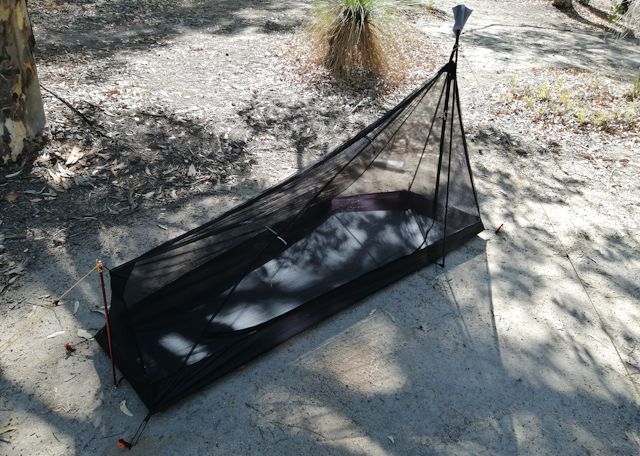 ...you can see the cords holding up the poles, however, they are both temporary. When the fly is put on top. both of those cords have to be removed. In particular at the tail-end as the fly won't go over with that cord in place -- but as soon as you remove the cord, the pole falls down, so you have to hold it up while attempting to stake the fly.

As I reported to the Bushwalking Forum, the size is barely adequate, and the tipi (pyramid) style made sitting up a very constricted experience.

That synthetic T-shirt, wore that and it was great, walking in maximum day temperature of about 32 degrees Celsius:

https://bkhome.org/news/202102/the-search-for-a-non-itchy-t-shirt.html

Didn't feel any itchiness. Got home Sunday evening, yesterday, didn't get around to changing, still wearing it this morning.

The soft TPU bottle was also a success:

https://bkhome.org/news/202102/space-saving-soft-water-bottles-for-hiking.html

The silicone nipple on that bottle is very convenient and easy to drink from.

On Sunday morning, I followed an old fire trail to meet up with the Munda Biddi Trail and hence to the town of Mundaring. A lovely old trail: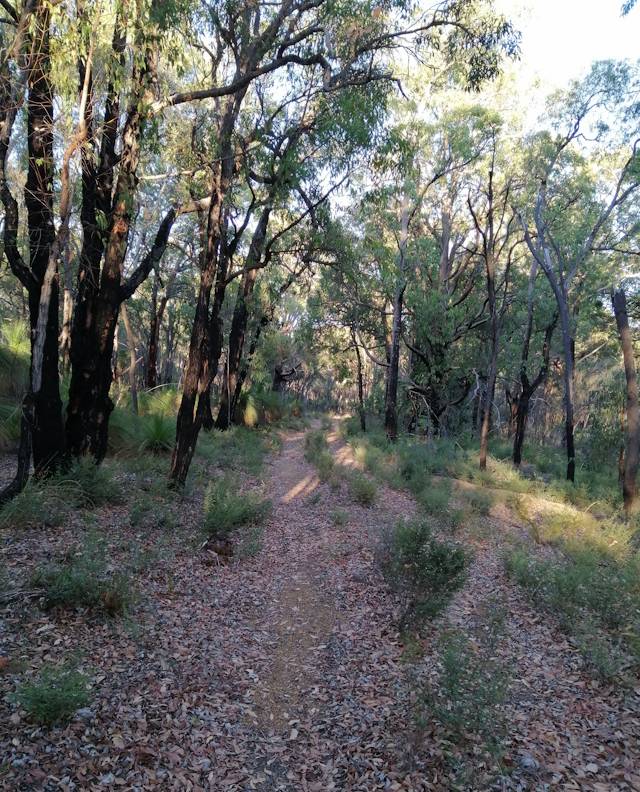 It did disappear at one point, but have "Offline Maps" installed on my phone, which showed exactly where I was relative to the track. This uses GPS, and only needs a phone signal to download the maps, which I did at home before embarking on the trek.

Offline Maps is authored by Psyberia, and they also have the big brother app "Alpine Quest":

Overall, the hike was a pleasant experience, though I did get painful leg cramps in the tent. This is something I am plagued with when trying to contort myself in a tiny tent. I was trying to put my shoes on inside the tent. It would have been better if there was a ground sheet that I could stand on outside to put on the shoes!

A further comment about maneuverability inside a tent: the best type is one that you can stand up in. Failing that, a tent that opens from the top, such as the Big Sky Soul:

https://bkhome.org/light/field-tests/ft2-backpack.htm

The Big Sky Soul 1P is another that I purchased on a spending spree in 2016, and on reflection now, as an elderly gentleman developing all kinds of pains -- back, knees, hips -- plus leg cramps -- that may be the best tent for me.
It is also very easy to put up, doesn't even need stakes, though recommend them for stability.

Conclusion: for an optimum pleasant walk with the Mountainsmith Daylight pack, I recommend a maximum weight of 3kg. Go over that perhaps a little bit with consumables.

I recall from 2016 how effortless it felt. This weekend it still felt great not having anything hanging off the back, but just that tad too much weight pressing on the bum.

That does then raise the question: how to reduce the weight. This is going to be a challenge as really do want a tent. A survival bivi perhaps? Anyway, the fun continues!

EDIT 2021-02-24:
I received an email from Dave. He also had severe leg cramps, and his doctor prescribed Magnesium Chelate, which fixed the problem.

Yes, magnesium is the usual cure. I take Blackmores MagMin, which are very small tablets. I buy those as don't like swallowing pills, but anyway don't swallow them, just chew them.

I take one about every few days, but did up the intake to one per day for 3 days prior to the walk. However, it did not eliminate the cramping while contorting in the tent. I know that it would have been worse if hadn't taken the magnesium.

I know many other people who also take magnesium. Why are so many people suffering from magnesium deficiency? Our modern diet, where food is grown year after year on the same ground? There are some foods high in magnesium, are we missing out on those in our diet? Has our gut flora and fauna changed in modern times, so that we are less able to absorb magnesium?

Tags: light