July 11, 2021 — BarryK
Continuing the TH1P Mark-1 tarp construction project, this is the previous post:

https://bkhome.org/news/202107/treehugger-1p-mark-1-tarp-deep-catenary-cut.html

By adding end-panels, it has now become a tent:

I won't post the dimensions, as it depends on a user's choice of pole height. It is easy to figure out -- just a triangle, well, almost.

At the front, one side of the triangle is glued to the tarp (left side of above photo) and the other two sides have glued hems, with a tie-out at the bottom corner. The tie-out is just like the others, with an o-ring attached.
The front panel is not quite a triangle, because I cut a bit extra so that the tarp will overlap, to minimize ingress of rain. However, you can see at the bottom, there is still a gap between panel and tarp -- if I had built the inner mesh bivvy, the intention was that would pull-in the front panel slightly, so that gap would disappear.

The tarp has a small hook on the tie-out, so can unhook from the o-ring and fold back over the ridgeline;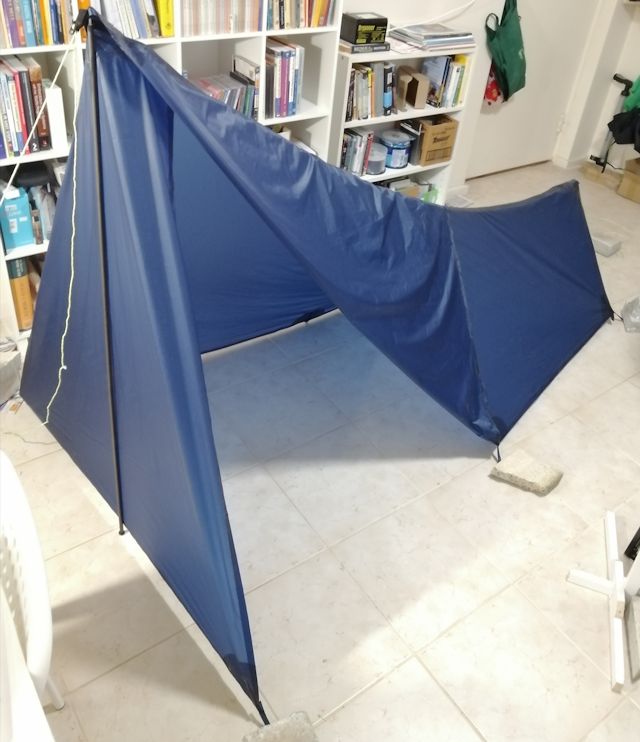 In the first photo, you can see an o-ring and a nylon hook beside it. That hook was the one originally attached to the tarp tie-out, however, today replaced it with a smaller one. The o-ring will have a tent stake through it -- I am using triangle-section stakes, so there are gaps for the hook to hook onto the o-ring, but it is better with a smaller hook.

I am intending to take this as it is, and just use one of my ready-made inner mesh bivvies on the next hike. Probably will not construct the Mark-1 tent any further.

The tail-end of the tent has just a simple triangle panel, glued to the tarp on both sides, hem along the bottom.

I have learned a lot from constructing the Mark-1. The tent as you see in the above photo weighs 242g (8.64oz) (not including poles), quite light, but I reckon, from lessons learned, could make it again with less weight, fairly close to 200g. So, rather than take Mark-1 to completion, with inbuilt mesh bivvy, will use it as-is.

I think also, might make the next one a little bit longer, maybe another 100mm, and a little bit wider at the front. The ridgeline has 25mm overlap, but it is such a strong bond, intend to reduce that to 20mm. The successor to Mark-1 will probably be named Mark-3.

Next step, use it on a hike, one or two nights.

EDIT 2021-07-12:
Here is the Mark-1 tent rolled up: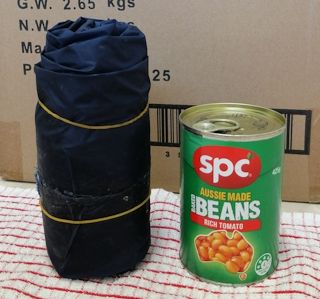 That's great, really small! Dimensions are about 175mm long and 80mm diameter.

Tags: light