January 09, 2022 — BarryK
EasyOS 3.1 was released on October 25, 2021, see announcement at Distrowatch. Since then, we have been steadily working toward 3.2 ...and, oh man, so many changes, where to start... Alright, an announcement blurb, doesn't cover everything, just some highlights:
Since version 3.1, EasyOS has undergone major structural changes and many new applications added. Some of the structural changes include a move from ALSA-only to Pulseaudio, applications running as their own user, improved hardware-profiling for audio, fixes for samba, audio and video, more video drivers, new /files top-level folder. Software changes include a recompile of all packages in OpenEmbedded (OE) and the addition of major multimedia applications such as LiVES video editor, VLC video player, OBS Studio video recorder/streamer and Scribus desktop publisher -- all cross-compiled in OE. Qt5 packages are now compiled in OE. More development packages in the 'devx' SFS, including Mercurial source-control and Nemiver debugger. Numerous bug-fixes and improvements.

The download is still fairly small, 581MB, yet includes a humungous collection of applications builtin. There are more installable via the package manager, but I do like to build a distribution that has just about everything most users would want. No need to hunt around, it is all there, ready to go. I think some pictures are in order, to make this blog announcement more entertaining. Here are snapshots of the menu, that give some idea that the word "humungous" really is appropriate: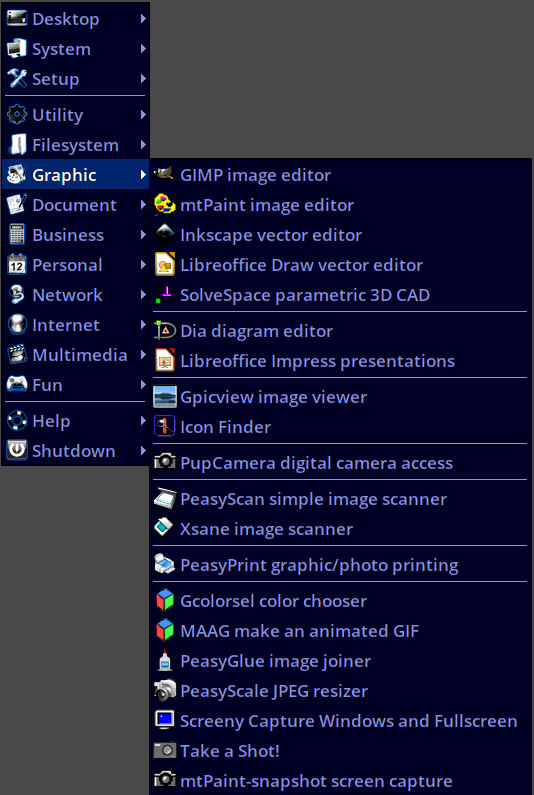 I won't show every sub-menu, just a selection. Above is the "Graphic" sub-menu, and as you can see, just about every graphics-oriented app users would need. Next, the "Document" sub-menu:
...the most recent edition is the Scribus professional desktop publishing app. Next, "Business":
...there is also Grisbi finance management available via the package manager. Next, "Personal":
...my favourite, that I have used since the very early Puppy days, is "NoteCase". Next, "Internet":
...Firefox is the only app that is not actually builtin. EasyOS has the SeaMonkey (SM) suite builtin; however, SM does have problems with some sites. So, Firefox is offered as an alternative. Select "Download latest firefox" and the latest version will be downloaded, 95.0.2, and then "Firefox web browser" will appear in the menu. An icon can also be created on the desktop. Any time in the future, Firefox can be updated to the latest version.

One piece of advice: if updating from an existing installation of EasyOS prior to 3.2, via "update" on the desktop, if you already have Firefox installed, please uninstall it before updating. Next, "Multimedia":
...the newcomers are LiVES and OBS Studio. I am very interested in receiving feedback about these two. I have encountered lots of bugs with LiVES, but the author has been very helpful and fixed them. OBS Studio looks good, but is very fussy about the video hardware -- you might get a "gpu not supported" error when startup -- let me know.
Celluloid is a pretty good video player, but if you are fond of VLC it is available via the package manager.

For a lot more detail, please read the Release Notes:
https://distro.ibiblio.org/easyos/amd64/releases/dunfell/3.2/release-notes.htm
Download link, hosted at ibiblio.org, English, French and German builds:
https://distro.ibiblio.org/easyos/amd64/releases/dunfell/3.2/
Also mirrored here, thanks to NLUUG:

https://ftp.nluug.nl/os/Linux/distr/easyos/amd64/releases/dunfell/3.2/

You are most welcome to join the discussions on the forum:
https://forum.puppylinux.com/viewforum.php?f=63
For a bit more reading, there are two new pages at easyos.org:
https://easyos.org/about/why-the-iso-format-has-to-die.html
https://easyos.org/dev/how-to-compile-a-linux-distribution-from-source.html
And some notes about the new /files top-level folder:
https://bkhome.org/news/202112/all-downloads-now-to-files-folder.html
...and yes, managed to get rid of those weird "proc", "pts", etc. entries in the save dialog.
And if you are new to EasyOS and want a quick list of new and different features relative to other Linux distributions:
https://easyos.org/about/how-and-why-easyos-is-different.html

Rather a long post. Could keep going, explaining all the new features, but this post is already long enough!
But no, I will add one more paragraph... at first bootup, you are asked to choose a password. You can just press ENTER for no password, but I strongly recommend that you do this, a password that you will easily remember, as it is the only chance you get. The password is required to create encrypted folders in the working-partition, and that can only be done when the folders are first created. The same password is also applied to the 'root' user. A small inconvenience having to enter a password at bootup, but well worth it for the extra security.
EDIT 2022-01-14:
Version 3.2.1 has been released, see release notes:
https://distro.ibiblio.org/easyos/amd64/releases/dunfell/3.2.1/release-notes.htm
Download:
https://distro.ibiblio.org/easyos/amd64/releases/dunfell/3.2.1/

Tags: easy