March 02, 2022 — BarryK
I have introduced EasyCast yesterday:
https://bkhome.org/news/202202/recordmydesktop-cli-screen-recorder.html
I did a lot of work fixing and improving EasyCast, and modifying to work in EasyOS. The version has been bumped from 1.1 to 2.0. Here is the first window: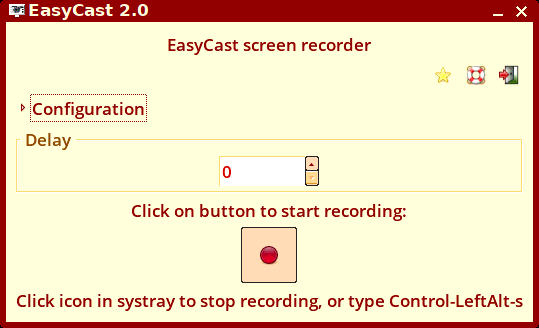 The Configuration can be expanded:
An icon appears in the systray, to show the status. Old-forum member SFR is responsible for adding the systray feature.
After clicking the button with the red dot, another window pops up asking for a filename, and then recording begins. The video is saved in .ogv format; however optionally it can be converted to other formats:
The .ogv file is created by 'recordmydesktop', and conversion to other formats is done with 'ffmpeg'. The result is played by 'defaultvideoplayer', which is 'celluloid':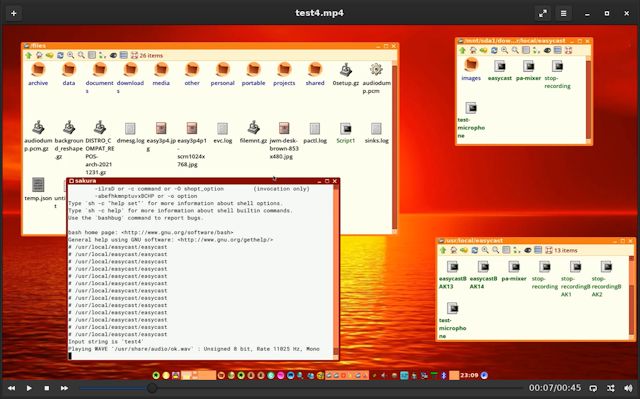 The result is ok, but only just ok. I have two reservations...
Firstly, recordmydesktop sometimes leaves artifacts all over the place when moving windows. Not always, which makes it frustrating.
Secondly, I was able to record audio, with a lapel-microphone, but background hum is very high. This is the first time that I have used a microphone on this PC, so perhaps the problem has nothing to do with recordmydesktop.
First time using this microphone also. It was very cheap, bought off eBay.

Anyway, EasyCast will be in the next release of Easy, and you guys are welcome to test it.

Tags: easy