August 07, 2019 — BarryK
If you follow my blog, you will have realised that I like the little Suzuki Jimny 4wd, the new 4th generation model, introduced into Australia in January 2019. And, incidentally, now on a two-year waiting list.

I have fond memories of when I owned one, despite it's awful on-road performance. Though, the 4th gen. is said to be much better on-road.

I found these photos of the Jimny next to normal large 4wd vehicles, posted a few weeks ago:

http://bkhome.org/news/201907/jimny-4wd-next-to-the-big-boys.html

Today I found another photo, this time between two mid-size road cars:

Quite amusing.

Tags: nomad
July 31, 2019 — BarryK
I posted recently about my Kings camp stove:

http://bkhome.org/news/201907/heating-in-a-tent.html

...that post was in the context of heating inside a tent. However, I am unlikely to do that, and it is just for use outside, for cooking, boiling water, and warmth.

One thing that is missing is a spark arrestor. The Kings stove is a cheaper copy of the Frontier stove, also posted about recently:

http://bkhome.org/news/201907/frontier-stove-heating-a-tent.html

There are various accessories available for the Frontier stove, including a spark arrestor, which is sold by Tent World here in Australia -- out of stock though. So I looked online and bought this off Amazon, AU$29.99 plus postage AU$7:

https://www.amazon.com.au/Winnerwell-Arrestor-Medium-Stoves-Chimney/dp/B07HRDDW57

The flue is specified as 2.5 inches, which is about the same as the Kings stove. The Winnerwell is all stainless steel, the Kings stove is black-painted steel. It was quite cheap compared with the alternatives, so decided to go for it.

A bit of a gamble how well it would fit onto the Kings flue pipe, but it did fit, very snuggly:

The Kings flue slid right up and pushed against the mesh, which is only held in place by a few tiny welds. So, I put in three stainless steel rivets, as a stopper for the Kings flue pipe -- one of the rivets is just visible in the above photo.

Pleased with the outcome. Might spray it with stove-black paint, so that it blends in. But that is not a high priority.

The Kings camp stove is a high-volume seller here in AU. Possibly many people doing online research on camping stoves prior to purchase, will stumble across this page. In that case, here is the link to the Frontier spark arrestor at Tent World, hopefully in stock again soon:

https://www.tentworld.com.au/buy-sale/tas-frontier-stove-spark-arrestor-for-chimney

Tags: nomad
July 25, 2019 — BarryK
I posted earlier today about various means to stay warm inside a tent in cold weather:

http://bkhome.org/news/201907/heating-in-a-tent.html

I dismissed the idea of putting my el-cheapo Kings camping stove inside a tent. But later, was googling, and found that it has been done. The Frontier stove is identical to the Kings stove, and this company sell a kit for installing it into a tent:

https://www.belltent.com.au/product/the-frontier-stove/

All of the parts to do that can be purchased individually on eBay. It is possible to fit a fireproof and rain-proof hole for the flue, to any tent. Fireproof and insulating mats are readily available, probably also from the local hardware store.

So yeah, quite doable. I would be nervous using it in a polyester tent. Polyester is apparently slow to catch fire, but once it gets going... With careful design and use, it is probably safe. The main risk would be a spark jumping out, the operator would be there on the lookout. A very large mat would be good.

Very interesting! Maybe another project, one day. Still have to build the water distiller prototype #3, so one thing at a time.

Here is another tent stove that I discovered while googling:

https://www.amazon.com.au/Winnerwell-Woodlander-M-Sized-Cook-Stove/dp/B0792VPVPG

...that price is in AU dollars, cheaper than the Gstove, and looks like more cooking surface. Actually, I have ordered the Winnerwell spark arrestor, at AU$29. I want it for my Kings stove. There is one for the Frontier stove, and that would fit the Kings stove flue. The Winnerwell spark arrestor and rain cap is cheaper, stainless steel, and might not be a good fit onto the Kings flue, but I will make it fit ...a mini project.

Tags: nomad
July 25, 2019 — BarryK
The grey nomads follow the seasons. Here in the southern hemisphere, they go north in winter and south in summer. Here in the south-west of Western Australia, there are lots of lovely camping sites, especially on the coast, and many of these can get crowded in the summer, even more so during school holidays.

Off-season camping has its attractions, one being that will only have to share a campsite with a few other hardy souls. However, sitting in my tent at night with butt freezing, is a challenge. Of course, wear lots of clothes, but even so. Also, I am a "cold sleeper" and liable to find the sleeping bag inadequate.

There are various solutions for heating in a RV or tent. Gas and diesel heaters are the options. Electric heat if at a caravan park and powered site, however, not viable at an un-powered site.

Then there are wood stoves. There are wood stoves especially designed to use inside an RV or tent. Yes, even a tent. I did some research and especially like the Gstove:




https://www.gstove.com/gstove/12004/gstove-heat-view-camping-stove-compact-with-high-effect-plus-glass-door

The Gstove is made in Norway. Here is a video:

https://www.youtube.com/watch?v=KCKyS5JPj6w

Most of the videos show usage in a tent with earth floor, which is understandable, however, there are some videos showing usage in a tent with floor, and a fire-proof mat under the stove.

Very interesting, but I already own a wood stove, a cheapy, that I bought fron 4wdsupacentre for only AU$79, Kings camp oven:




https://www.4wdsupacentre.com.au/products/cooking-gear/adventure-kings-camp-oven-stove-portable-flue-damper-long-chimney.html
https://www.ebay.com.au/itm/Portable-Long-Chimney-Camp-Oven-Stove-Camping-Outdoor-Cooking-Picnic/163541988705

That's great for use outside the tent, people can sit around it on a cold night. It could even be organised to be underneath an awning.

I don't fancy putting the Kings camp oven inside my tent. Would be an interesting project though.

Thinking about sitting inside the tent at night, or in bed, with extremities chilled. I don't want a gas or diesel heater, so what is left? A 12 volt electric blanket!

12 volt electric blankets draw very little power, low enough to run from a solar-charged battery. This option intrigued me so much, that I bought two tiny ones from eBay, to compare:

"Snoopy" AU$7.21 450x450mm 22W Actual: 425x415mm 15.5W (at 12.42V)
https://www.ebay.com.au/itm/Electric-Heated-Cushion-Pad-12V-Car-Electric-Heating-Mat-Pet-Electric-Blanket/323569626244

"Flowers" AU$10.19 420x420mm 20W Actual: 450x435mm 15.2W (at 12.42V)
https://www.ebay.com.au/itm/3-Type-Car-or-Home-Electric-Heating-Blanket-Bed-Mat-Pad-Heated-Warmer-Herter/132962325722

"Snoopy" and "Flowers" are the patterns on the ones I received. I like "Snoopy" best, it has rounded corners, like this one: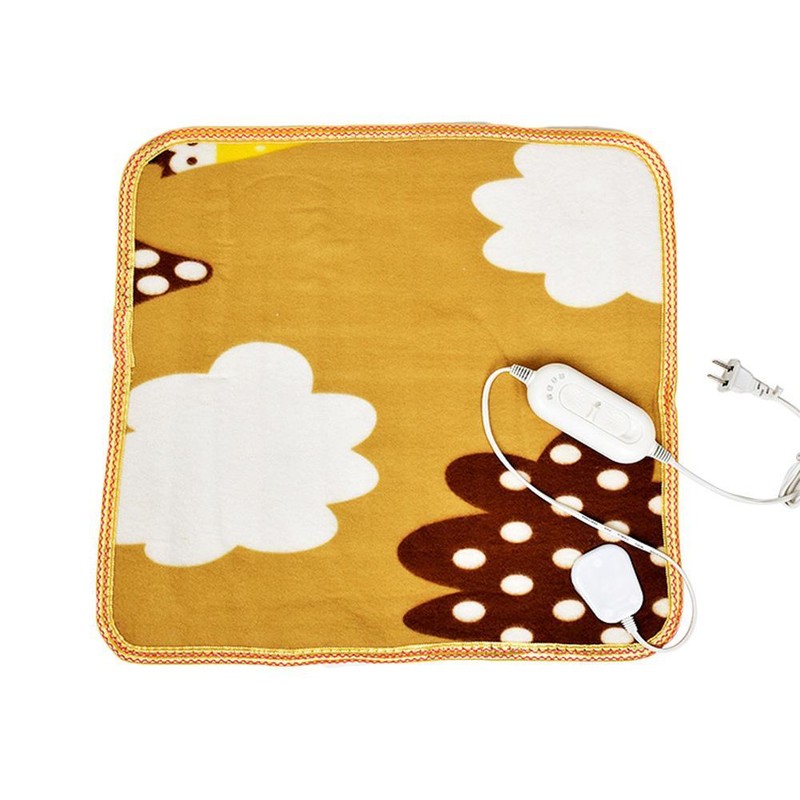 Both of these state on eBay that the item location is HongKong, however, they actually came from Thailand. Same place, just different PO boxes.

I have used these, they are great. Sitting in my lounge chair, tried them in different positions. The back, under the bum, inside front of jacket. They have a three-position switch, and this is where their cheapness becomes apparent, as the two on-positions are the same. The switch is probably designed for two heat levels, however that is not how they are wired. It is just on, 15W, or off.

The only complaint that I have is that they get too hot. This is a winter night, but inside the house, so not really testing them in conditions of a cold winter night in a tent.

I reckon that two of them wired in series, on a mattress, would be great while sleeping. 7.5W is tiny, yet from my limited testing I think it would make for a pleasant sleep.

Will do some more research on this. I wonder if there are any available in which the switch does actually have two heat levels?

Tags: nomad
July 23, 2019 — BarryK
Most campsites that I have stayed at have toilet facilities. There are those that don't, and of course not available when just camping anywhere in the bush.

Caravan parks have regular toilet blocks, with full bathroom facilities. Most campsites maintained by DPAW (Department of Parks and Wildlife) here in Western Australia have pit toilets, also known as drop toilets, which are just a deep hole in the ground, with a latrine built on top.

When I camp in bushland, or get the urge to go while driving in the countryside, I dig a hole using a prospector's pick. It is recommended to dig deep enough so that wild animals will not dig it up. This site recommends at least 150cm:

https://www.bibbulmuntrack.org.au/trip-planner/health-hygiene-safety/

Contrary to what you will read on some websites, it is OK to put the toilet paper into the hole, as long as it is deep enough. Online, you will also read some advice that human poo is bad for the environment, but that is, what can I say, fanatical greeny nonsense, or using more colourful language, "b*llsh*t".




Continuing to equip for longer-term camping, in many cases away from a permanent toilet facility, I need something more than just walking out into the bush and digging a hole each time that I need to go. I have researched what is available, and decided against the "porta potti" solution -- most RVs have these, but they are disgusting to empty. See these videos:

https://www.youtube.com/watch?v=fw8GhbyMNYk

https://www.youtube.com/watch?v=hb35eIcusb8&feature=youtu.be

https://www.youtube.com/watch?v=s-Z8DdrtuVo

...you get the idea! There's plenty more videos on the same theme.

The old-fashioned dig-a-hole method is still the best I reckon, though we can improve on it. We can create a pit-toilet, for use over many days. It can even be screened and sheltered from prying eyes and the weather.

What is needed is a toilet seat on a frame, below which a hole can be dug. It must have screening to keep out flies.
In my case, I camp in a tent, no RV, so the toilet has to be very small.

What I ended up purchasing is the Kookaburra Bush Dunny:




It folds flat, as you can see in this video:

https://www.youtube.com/watch?v=En_ClkjSKlY

...made in China, but I noticed that there is also an Australian-made equivalent, unfortunately at a higher price:

https://www.snowys.com.au/jimmys-thunderbox-toilet

If you wanted a bit more luxury, you can get a pop-up tent, for shelter and privacy:




https://www.snowys.com.au/speedy-change-shelter

To complete the setup, you need a small shovel, a bag of lime and a scoop for the lime. The shovel is for digging the hole, the lime is to reduce the odour and enhance breakdown of the poo. Basically, you do your business, then throw in a scoop of lime. I know about this lime thing, a long time ago I used to visit a farm where they had a bucket toilet. We threw on lime each time. When the bucket got full, the owner of the farm used a manual post-hole borer and emptied the bucket into the hole. He did this in the field where he had fruit trees. The cycle of nature!

Tags: nomad
July 18, 2019 — BarryK
I just posted about the Jimny 4wd versus bigger vehicles, and mentioned the bone-breaking corrugated outback roads. If you are not an Aussie, or are an Aussie but never experienced these roads, then you might find this interesting.

Here is the previous blog post:

http://bkhome.org/news/201907/jimny-4wd-next-to-the-big-boys.html

Here is a photo of a typical corrugated road: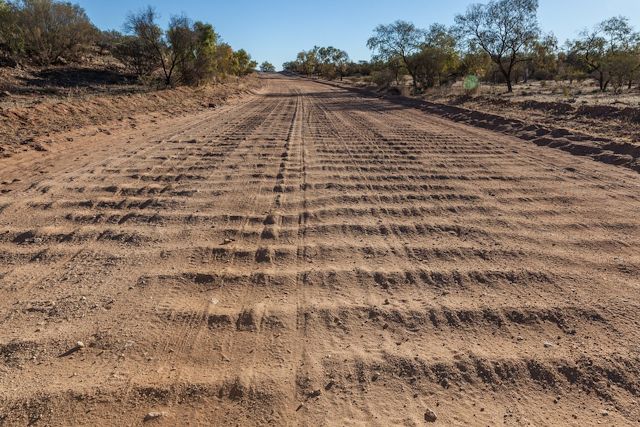 The photo comes from here:

http://www.tjm.com.au/en/news/how-drive-corrugated-roads

These roads can go on for hundreds of kilometres, even several hundred kilometres depending on how remote you are venturing. I have driven some roads like this in the northern parts of Western Australia, in a Holden Barina, just an ordinary small road car. It survived, except the battery failed, as the casing cracked.

Interesting the advice on that link, to achieve a speed where you synchronise with the ripples.

Graders do traverse many of these roads, giving some measure of smoothing, though it is short-lived, and the road maintenance may be very infrequent.

Here is an explanation how corrugations are formed:

https://practicalmotoring.com.au/4x4/how-are-corrugations-formed/

Tags: nomad
July 18, 2019 — BarryK
I posted about the new Suzuki Jimny 4wd earlier this year:

http://bkhome.org/news/201903/new-suzuki-2019-jimny-4x4.html

If you live in the USA, you cannot buy a Jimny, as Suzuki withdrew from the USA in 2013. A trip down to Mexico maybe?

Of course, what you do have in the US is the Jeep Wrangler and probably others. Bigger vehicles though. I was amused yesterday when I saw some photos of the Jimny alongside a couple of these. Firstly, alongside a Toyota Landcruiser:

And next to a Ford Ranger:

...amusing, hey! Looks like a toy car.

There are videos on YouTube of the Jimny versus various bigger vehicles. Here is Jimny versus Wrangler:

https://www.youtube.com/watch?v=pTFeg60r3Q8

...prices are Australian Dollars. Here is another, up against a Wrangler Rubicon:

https://www.youtube.com/watch?v=_TtsNV1Ywng

...don't want to imply that's the kind of activity I would want to indulge in. For me, just want to get to campsites situated along soft sandy tracks, a much less underbody-punishing activity! Also, corrugated roads -- here in Australia we have a lot of roads in the outback that are gravel and extremely corrugated, that is, have bone-shaking ripples. A genuine 4wd off-roader has long-travel suspension and rigid chassis designed to take that punishment.

Tags: nomad
July 12, 2019 — BarryK
I went for a drive east of Perth, Western Australia, due-East on the Great Eastern Highway. Only drove about 300 km, however, if had kept going would have reached Kalgoorlie, which is a big-town/small-city about 700 km from Perth. Beyond that, well, can drive right to the other side of Australia.

There is a passenger train, named "The Prospector" that runs between Perth and Kalgoorlie, a daily service both directions. Quite cheap, and 50% off for pensioners (that's me!).

Anyway, I got as far as Carrabin, which has a motel/hotel/petrol-station (which was closed, at 11am on a Friday, how odd is that), and also has a train station. Oh, also a wheat silo, but that's it no houses, nothing else.

The train station would have to be an award winner for small and cute:

You have to like arid terrain to see the setting as pleasant. In the background you can see the wheat silo.

The train doesn't stop, unless you have a prepaid ticket. Given the remoteness of this station, I wonder how often it has to stop? Here is the station close-up, showing the parking bays;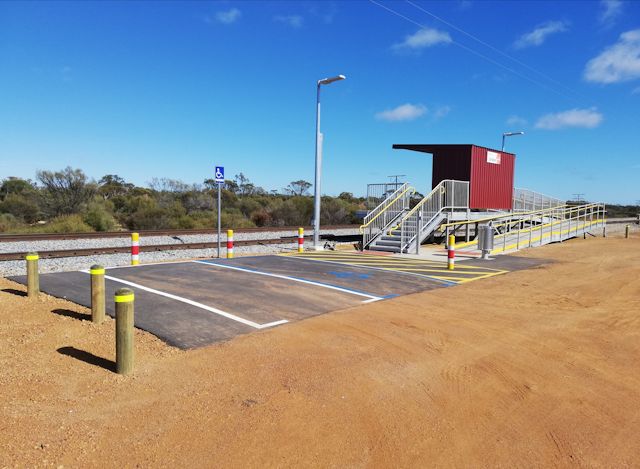 ...which is kind of amusing, as there is a huge open gravelled area for dozens of cars to park.

Apparently, the train really hops along, does the 700 km in under 7 hours. If you would like to see The Prospector in action, here is a video:

https://www.youtube.com/watch?v=NuBEWKjUh6Y

Tags: nomad